Category Archive:
Unknown Show with Bud Smith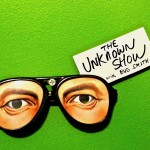 The Unknown Show w/ Bud Smith. February 12, 2013
The Unknown Show is an interview series hosted by Bud Smith. The featured guests will range from writers, artists, musicians, ect. with a focus on projects that they are working on or promoting. The goal is to #1, not put you to sleep, and #2 leave you with some personal and often creepy details about a person who used to be unknown to you.