Richard Vargas was born and raised in L.A./Orange Counties. He studied under Gerald Locklin at CSULB. Graduated with MFA (awarded with distinction) from Creative Writing Program, University of New Mexico, 2010. Major themes are social injustice, working class issues, immigration, and standing up to institutionalized racism… fuck it, the guy writes political poetry. Served on faculty of 10th National Latino Writers' Conference at the National Hispanic Cultural Center, May 2012. Currently residing in Albuquerque, where he edits/publishes The Más Tequila Review.
Richard will be reading at the Mothpocalypse on November 4th at the Harwood Arts Center in Albuquerque, NM.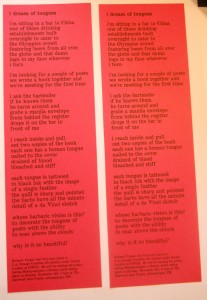 "i dream of tongues" printed on red card stock, cut to 3.5 inches wide each.