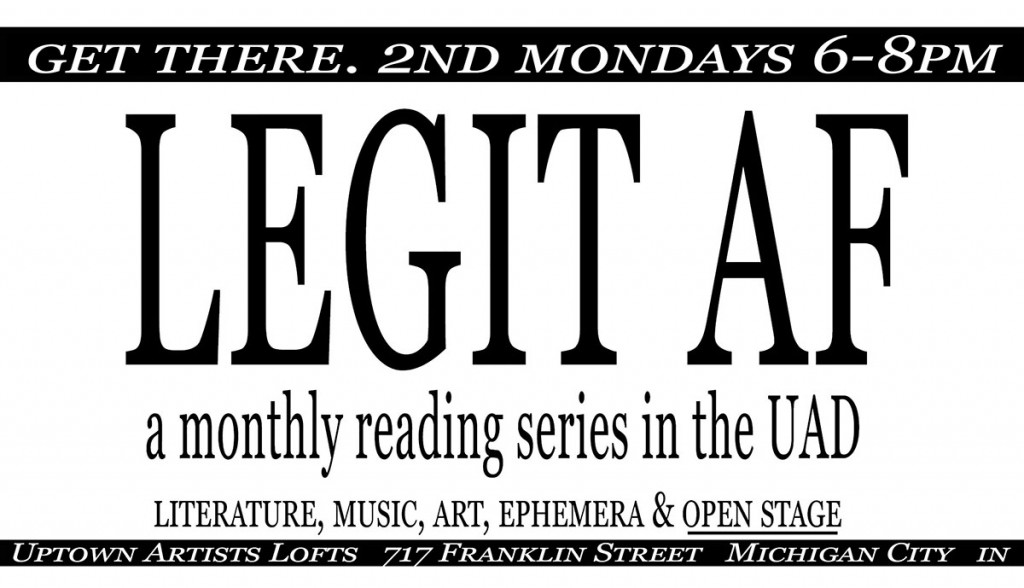 Continuing Literary Reading Series and Open Stage at the Artspace Uptown Artists Lofts
Grassroots Organization Brings Diverse Voices in Creative Writing and Independent Music From Across the Nation to Michigan City, Indiana
The monthly "Legit AF" literary reading series and open stage continues in the Uptown Arts District of Michigan City, Indiana on Monday, November 14th, 6-8pm Central and thereafter every 2nd Monday of the month. The evening will begin promptly at six in the lobby of the Artspace Uptown Artists Lofts at 717 Franklin Street.
Legit AF was established in June of this year by poet in residence and founder of The Literary Underground, Michele McDannold. In the interest of creative enrichment and community inspiration, Legit AF is always free and open to the public. "At the foundation of all our activities is the belief that the creative process and experience should not be reserved for those with disposable income. As long as there are voices that are marginalized, I'll keep turning the lights on," said McDannold. "Working in this vein is essential to a thriving arts community. I feel very fortunate to be living and working in the Artspace Uptown Artists Lofts, inarguably an essential component to Michigan City's Uptown Arts District. This is my small but persistent way of giving back."
The series is focused on mingling a diverse mix of accomplished contemporary authors from across the nation with emerging regional talent and the Michigan City creative community at large. The first of these events featured a dozen small press authors from across the nation, sharing their work in person, over Skype and pre-recorded performances. Funds were raised that night and online with the purpose of bringing diverse voices in creative writing and independent music to our community, specifically to cover travel costs and a small stipend for touring performers. To date, The Literary Underground through Legit AF has funded and featured live performances from authors traveling from Florida, California, Ohio and other parts of Indiana. Donations continue to be sought in furtherance of these efforts.
Typically, each month will feature one to two poet/author/performance artists at the beginning of the evening then open up the stage for any takers from the audience. All skill levels and avenues of creative pursuit or talent that can be performed or presented in front of an audience are welcome. This month will feature a presentation of another dozen small press authors, giving those in attendance a sampling of what is to come. Open stage to follow, sign-up begins at 5:30pm. The Magical Jeep Distributing Library–a curated collection of small press books for lending–will be on hand as well. This event is not suitable for children.
About The Literary Underground
The Literary Underground was founded in 2010 to support independent artists, promote diversity in creativity and foster community in the small press. The effort aims to offer a point of view under-represented in mainstream literature by introducing a larger population to these marginalized voices. The LU began promoting and hosting events in June 2012 with their participation in the first annual Midwest Small Press Festival in Milwaukee, Wisconsin. Since then, the LU has organized events in Oakland, California ("Beast Crawl"); in Albuquerque, New Mexico ("Mothpocalypse" and "Happy Endings"); in Denver, Colorado ("Tiny-amp Records VS The Literary Underground"), in Jacksonville, Illinois ("Nothing to Lose"); in Seattle, Washington ("A Rainy Day in Seattle"); as part of the worldwide "100 Thousand Poets for Change" Day in Danville, Illinois; along with other events in Los Angeles (CA), Springfield (IL), Old Hickory (TN), Lenoir (NC), Hammond (IN), and most recently La Porte (IN).
Citizens for Decent Literature Press was founded in 2011 as the publishing arm of The Literary Underground, producing first a print zine, Little Books, Roll Your Own Stories, Limited Edition chapbooks, and an online publication. CfDL now focuses on the successful "This Is Poetry" project which will ultimately result in an eight-volume book collection of poetry, each volume representing poets from a specific geographic region as well as several special collections. Volume 3: Poets of the West is set to be released August 2016 joining Volume 1: Women of the Small Press and Volume 2: The Midwest Poets.
Other successful projects of the LU include the Project U Radio Network and The Literary Underground Wiki—an open-source encyclopedia covering the history, production, and culture of the underground press. More information about these projects and others can be found online at http://theliteraryunderground.org.
# # #