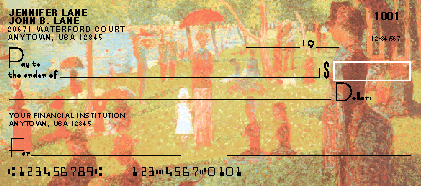 Personal Checking: Window to the Soul

In this, a tale of three checks that traveled across the author's desk last week, we examine the great wealth of information that can be gleaned from one's personal checking choices. The results are often stunning and, sometimes, poignant.
CHECK No.1 (For our visitors from 'across the pond' and to the North, whitney means 'cheque' - Ed.)
Background: an arctic mountain scene, the view from just below the timberline. Printed in muted, cool blues and whites.
Inset: a rectangular box (shadowed in blue) containing a picture of two while wolves or possibly huskies rubbing noses. Printed in slightly more opaque shades than the background, this time in warm, creamy tones.
Typeface: New York, all caps, italicized for "Pay to" and "Dollars."
Bank: Chase, 1501 Broadway.
Handwriting: curious mix of crooked caps and scrawled, tight cursive. No rhyme or reason as to when each is used. Not messy, however, just eclectic.
Signature: unreadable.
Diagnosis: a nature enthusiast, Check 1 lives vicariously through the Discovery Channel. On the weekends, he plays a little pickup roller hockey in his neighborhood. He's a beer drinker, but not heavily, and has no use for a kitchen, keeping mainly condiments and allergy medication in his refrigerator. He sobbed through the last 5 chapters or so of Into Thin Air and subscribes to Men's Health and Premiere, both of which he reads while in the bathroom. His Top Five includes Sandra Bullock and Mia Hamm. Check 1 dreams of the day when he can leave this city behind, but in the meantime he wears poorly-knotted ties and barely ironed slacks to his word processing job, and leaves each day at about 4:55pm.
CHECK No.2 (Ibid. - Ed.)
Background: antiqued yellow parchment, swirly baroque borders.
Inset: an extravagant crest of the first letter of the last name.
Typeface: Helvetica, all caps, name in bold, swirly baroque for "Pay to" and "Dollars."
Bank: Chase, 770 Lexington Avenue
Handwriting: deliberate, well-crafted cursive. Each letter the same height and width. Sloppy in the "Memo" section, however, as though it was filled out in afterthought, and quickly.
Signature: written clearly in the same geometrically exacting cursive, except for the last "z," which trails off into nothingness.
Diagnosis: a control freak, Check 2 fancies herself quite the aesthete and all things in her possession have the same classic air as her checks: her JP Tods loafers, her Chanel bag, her daschund. Her short fuse has been known to go off, mainly during incidents on the subway; consequently, she takes car services whenever possible. Fortunately, her job as the personal assistant to a wealthy patron of the arts lends itself to this, and so she is able to zip about the city in style, picking up dry cleaning, haute couture, and catered meals for her boss. Her drink is (of late) a dry martini, 2 olives, because that seems to be the thing to do, and if Rupert Everett were straight, she'd be on his doorstep in a heartbeat (not that she'd ever publicly admit such irrational behavior). She doesn't get off the island much, and when she does, she flies right over the Midwest and heads for her parents' house in La Jolla. The unresolved last consonant in her signature betrays a hidden desire to put all of the compulsive nit-picking behind her and really let go.
CHECK No.3 (You know. - Ed.)
Background: a deep, smoky gray with a white border
Inset: the panting, smiling face of a cocker spaniel puppy fills almost the entire check.
Typeface: Helvetica Bold, all caps, for name/address, Avant Garde for "Pay To" and "Dollars."
Bank: Chase, 84 Fifth Avenue
Handwriting: unreadable, about a pinky-finger-width off the lines, squished to left side of check, overrunning dollar figure box. Neither name of "Pay To" nor "Dollars" amount are spelled correctly/written in proper format. Complete disregard for convention of check-writing.
Signature: even more unreadable, a scrawl with no seeming beginning or end.
Diagnosis: Check 3 is inexplicably angry. His few friends know this and don't question it at this point, they just get out of his way. His work as an independent contractor gives him ample opportunity for venting frustration, but he rarely picks up a hammer or screw gun anymore, fancying himself (the boss) above manual tasks. At the same time, he is a firm believer in the "if you want something done right, do it yourself" theory of life, presenting an unreconcilable conundrum: he thinks his staff is lazy but refuses to pitch in and help. They don't like him much, neither do his kids. He wishes he'd run off with that perky blond cruise director in the spring of his junior year in college, but his dad (also an independent contractor) would never have forgiven him, and the family business would have been lost. So Check 3 slaves away, late nights, weekends, anything he can do to get his mind of the banality of his life. His wife bought the cocker spaniel checks.

About the author:
whitney pastorek resides in New York City and refuses to capitalize her name.