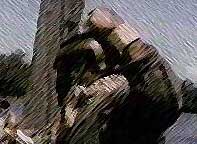 Right and Wrong by Sea or by Land

The party was crowded, also loud, but as I passed the couch I distinctly heard a well-dressed man say to the woman who sat next to him, "Well, if killing a bunch of kids and jerking off on their dead bodies is wrong, I don't want to be right." She giggled fancifully, lifting her mossy green pumps into the air. I kept moving, it was a lousy party.
- - -
Outside the party, a little buzzed, I discovered someone had stolen my van. I stood in midnight, occupying the space it had occupied. Would I ever see those cds again? I didn't know. I hotwired a Honda Accord and peeled away. There was a Dinosaur Jr. cassette in the player. "Nice, nice," I thought to myself as I took one last sip of Bass and let the bottle bounce against the cushions of the backseat.
- - -
A voice in my head, the one with the British accent, commanded me to bring her the heads of seven priests. Her constant nagging is a real bitch, especially when I'm comfortable and watching a basketball game. I went into the kitchen and cut the middle finger of my left hand off, BECAUSE THAT WILL FUCKING SHOW HER.
I went back and watched the 4th Quarter and Overtime, my hand a wad of red paper towels. The finger in the freezer napped in the cold.
If you always do what the voices tell you there will be no end to their nonsense.
- - -
My wife's boyfriend, Josh, called when she was at yoga. He asked me to take a message, and started spouting a mix of lovely poetry and perverted filthy bed talk. I pretended to write it down, saying "uh-huh" a lot, repeating his phrases, "Did you say 'a lake of long licks?' Uh-huh." When my wife got home I told her the boy who had taken her to the prom years ago had called. She beamed with excitement.
- - -
I sent my landlord the finger for the holidays.
- - -
I was walking the dog and I found a wallet with some money and identification in it. It was a neighbor who lived a street away. I left the wallet and all the money and took the pictures inside. I took turns with the photos, propping them up on the toilet, trying to knock them into the bowl with shots of my urine.
- - -
While we were making love one night, my wife declared she could not have an orgasm unless I talked like Mr. T and punched her in the face. I thought, "Well, that explains a lot." And it occured to me I didn't really care if she ever had an orgasm for the rest of her life. I went to the TV room and caught the last half hour of The Color of Money on Starz.
- - -
Another voice in my head, the hillbilly one, sang a funny song about holding up all the Starbucks in town. Man, there are a lot of fucking Starbucks. I just couldn't follow through.
- - -
I got a phonecall from the devil late one night. What an asshole.
- - -
A mob figure was murdered and on the news they gave a number to call with any information. I called, and confessed to the crime. I did 30 years upstate. I never squealed.
- - -
At a different party, a really interesting woman whispered to me, "I am secretly a robot." I thought to myself, "Wow, I really like this girl."

About the author:
vpright.jpg