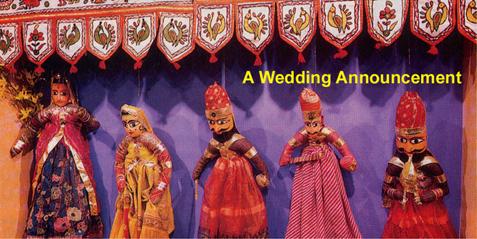 A Wedding Announcement
by T.G. Gibbon

Finding themselves with little else to do, Edward and Susanna Hartmann of Rockville Centre, New York, are finally forced to admit the marriage of their daughter, Allison Susanne Hartmann, to one Jeffrey LeRoy Boison, of no fixed abode.
The bride, whom friends describe as smart for her height, is known for her tireless crusade to stamp out childism. Each day she meets with a group of patients that she then trains to act more like normal people. Don't worry, she's licensed and the "kids" (as they are called by medical professionals) are heavily sedated with the experimental new drug, Lunchables. She shoulders this terrible burden because of an innate concern for the downtrodden and a deep affection for vomit. The bride is not a great-great-granddaughter of renowned Pennsylvania tile-maker Henry Chapman Mercer, but she can find Belize on a map which is more than I can say for you, chief.
The groom, the son of harness racing magnates, Mr and Mrs Boison, is known as LeRoy behind his back, a fact of which he remains hilariously ignorant. Young Boison himself started life with a terrible case of childism which recurs to this day. It is through this frightening disease that the couple met; the groom attempted to pants the bride's father while wandering aimlessly through their hedge maze. Allison pitied the poor bastard and nursed him back to health while vacationing on mildly amusing Capri, digging for clams, and stealing tourists' pocketbooks. Lately, according to Mr Hartmann, Jeffrey has been acting, "Slightly less like a pack mule and almost normal, if he can keep his damned mouth shut for more than three minutes and stop talking about the bloody Bananas In Pajamas, which, by the way, are NOT coming down the stairs. Not in this house, no sir."
The couple will honeymoon in Sierra Leone, which everybody says is the new Goa. There they will laugh at men in skirts while contracting parasites that make Martin Amis look like A.A. Milne. The bride has decided to keep her dignity. The couple will live in perpetual fear of moustaches.

About the author:
TG Gibbon was born in Philadelphia and hopes to die there. Until then he enjoys raffles and surprise parties.