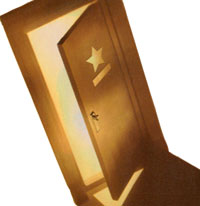 Pageant
by Tonya Canada

As Second Elf in my fourth grade holiday production of Jesus Has A Dreidel!, I discovered my father's favorite child was a kid named Stanley. As an only son with two sisters (none of us named Stanley), I found this discovery slightly disturbing but the news took a backseat to the fact that Richard Stuart's donkey head was pinned too tight and when it came time for Santa to explain Hanukah to the proud parents, Richard wheezed and sputtered like a furry firecracker before ripping off his head and throwing up on Mary and Joseph (played to creepy perfection by the cross-eyed Sara Talbot and her crazy brother Samuel).
Richard's projectile spray doused some of us elves, destroyed the frankincense and barely missed the camel, eerily brought to life by the perpetually dour Mary Lucy Tally, but it was, in my opinion, the smell of the regurgitated sugar cookie/cranberry punch combination that caused Mary Lucy to rip off her own costume and throw up in the manager. Before dress rehearsal, she had been eating homemade cupcakes decorated with miniature menorahs and tiny reindeers, and now Rudolph and some of his closest friends lay stranded in a sea of hay and chocolate vomit while Mary Lucy cried into her camel pants.
I felt a twinge of guilt at such a fine collection of sweets going to waste. As the heaviest fourth grader in Ryder Heights Elementary School, I never let a dessert get lonely. My own mother had purchased a dozen Dunkin' Donuts for my holiday contribution but after Stephanie Freeman, a stuttering, pigeon-toed stick with braces, commented on the sight of my thighs in green tights and glitter, I ate the entire box of red and green treats in the closet during Mr. Lewis' ornament-making demonstration.
The accelerated meltdown of the yuletide presentation almost guaranteed an early dismissal, but Ms. Randall, the principal's secretary and leading town yahtzee champion, still tried to make her way off stage to comfort a row of weeping kindergarteners. She had been subbing in as one of the Wise Men since Stephen Loomis caught the chickenpox from a Francis Dourie sleepover but as Ms. Randall gingerly crossed the vomit-laced stage, she slipped on the no-vacancy sign and fell face-first into the slightly depressive Crystal Simmons, who as a gothic snow fairy was hiding behind the sleigh with First Elf, the brown-nosing Henry Steadman, who never let me forget I was second to his pointy shoes and jingle balls.
Unfortunately, over the occasional screams of small children, the droning sound of Santa or Tommy Smith-Hayden, the class bully, could still be heard. In the midst of the theatrical derailment, Tommy's take on the Jewish holiday was being delivered from the top of the plastic pig in a voice resembling a cowboy raised by midgets.
Tommy favored the ways of the wild west since his father had abandoned him and his mother for life on the open range. At least that's what Tommy had told us when he presented a dog-eared postcard from Wyoming at last month's show and tell. I had brought in my sister's turtle, usually a safe bet, except the turtle snapped at Tracey Benton, a lisping hypochondriac, who sprayed the turtle with her inhaler. The reptile coughed, promptly closed its eyes and died. Tommy accused me of pulling focus with my stunt but I knew there would be a higher price to pay when I returned home with a stiff pet.
With Santa skipping the last two days of Hanukah to lasso a cardboard sheep and the rest of the cast searching for the exits, it looked like our theatrical extravaganza would open and close in a record fifteen minutes. I tried to locate my parents who I sensed had snuck out before the curtain went up, leaving me to hitch a ride in full Second Elf costume with Elizabeth Fortunato and her five siblings. I liked riding with the Fortunatos since Elizabeth's father had a glass eye that he would, when begged enough, put on the dashboard while he drove.
Sadly, I spotted my mother exchanging recipes with Ms. Daggett, the home economics teacher who set fire to the stage last year while holding a parent/teacher conference on cooking with kids. As I tried to get their attention, Stanley Carter, who was playing Jesus (infant to the cross), stood up on the roof of the barn we had used during last year's animal-centered musical, Farmer Frank Gets His!, and starting singing "Silent Night."
The school-wide mayhem magically ceased as the sound of Stanley's melodic voice lifted above the stage and out over the rows of disgusted parents and horrified teachers. Even Principal Harris, who I hold personally responsible for the Baloney Incident, stopped berating the chorus teacher long enough to listen to Stanley.
My mother swore it was an angel singing and my father, who was wiping a chunky mixture off his parka, remembered Stanley from his previous turn as a dancing tractor. I watched in silence as the entire auditorium stood still to listen to him sing. The Fortunatos bowed their heads. Principal Harris hugged a high school volunteer. I ate a leftover candy cane I had hidden in my elf belt.
As Stanley finished his song, we stood by in our filthy costumes waiting to be carted home for doses of Pepto Bismal and smelling salts. I smiled at Stanley as he folded up his robe and put his crown of thorns into the prop box. My father offered him a ride home, my seat, in fact, but Stanley just shrugged his shoulders and disappeared through the cafeteria doors.
Christmas break came and went and eventually everyone recovered from the holidays but Stanley never returned to school. My father said he was a true miracle, a golden child, bringing calm to a room full of bozos. I offered to take a vow of silence too or drop out of school or at least sign up for singing lessons but my father claimed it wouldn't be the same.
Stanley had come and gone, leaving a Christmas tune in his wake. I had remained.

About the author:
Tonya Canada is an actor, writer and former rose festival princess. She is addicted to fashion magazines, happy hours and the use of sarcasm in crisis situations.