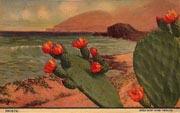 Crater

I have a picture, Christmas in Hawaii, Pete took the photo with my camera, and so I smiled at him for the first time in 8 months. I was fifteen, maybe only ten, no, fifteen pounds heavier than I had been when we flew over on the same plane. He sat in the front, I sat in the middle, I ignored him when I waited by the bathroom and he pretended to be asleep.
He had been angry before, and silent and cold, but he always came back, in the middle of the night, climbing quietly into my bed. He never apologized, but it didn't matter, he was there, his warm body in the morning and his shirt on the floor.
In three days I would fly back to San Francisco alone. I packed the three boxes of things I took with me everywhere we went. I was compulsively economic, never buying anything fragile, bulky, or heavier than I could carry.
I had mastered the art of listening for code and translating the way he nodded his head in my general direction to mean I like you right now, or let's go to bed. I learned that I could go for hours without speaking reciting my life story in my head and that he was painfully loyal to freedom, and that living together in our house by the beach, and sleeping outside using backpacks for pillows, making beds and curling up in the seats of my car and the floor of the pizza truck we drove to music festivals, never meant that he was making any promise to stay.
He wasn't even my type, North Town Stoner, and his ideas were so disagreeable and backward, the way he insisted that I was not his girlfriend. He was not even handsome and the day I found him he was sleeping on his stomach on the living room floor at Jill's house.
It was his back that did it, broad shoulders and not work out Gold's Gym guy, but construction worker defined muscles around his shoulders and down his spine. He had scars on his hipbones from playing baseball hard. His skin was dark from spending long days straddling a surfboard waiting for sets to come in at East Cliff.
This morning he drove me up to the top of Haleakala Crater. Will I forgive him because the sunrise is beautiful, or because he invited only me? That should matter. The wind is strong and little curls of his hair fall out from under that same brown baseball hat that once lived on my dresser.
I sink into the silence where he learned early on to burn intensity and create moments, beginning a sentence so that I held my breath and sat very still just in case something important was about to come out, waiting for words filled with meaning and clues, and I wait, and this drive, just another sentence started he will not finish over the loudness of the jeep engine and the grinding downshifts.
I secretly believe that if I am motionless and microscopic he will let down his guard for an instant, trip up, break down. He will look at me directly, and not around at everything that doesn't matter as much as the fact that I was loyal to him in his absence and confusion and I don't know what I want. It only matters that I leave that impression, that memory, that he can never look back upon and deny, that I was always in his corner, I was a good dog, and one day that will matter, and he will stand up for me and he will say to his friends, she was totally cool dude.
We watched the sunrise in silence until he said he liked my hair dyed black, 'good hair,' and somewhere he learned, someone taught him, or he saw it in a book, he completed the sentence, I am sorry. I watched his mouth and his determined, practiced, speech come out, and I forgave him like a mother, too easy, and didn't care if he meant it.
When I left, all the girls who told me to leave him spent nights with him and he comforted them and they said he was such a good listener.

About the author:
Sarah Montague is the author of a book entitled "You Can Be Anything!" available NOW from Villard Books.