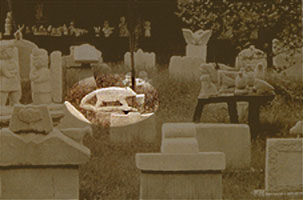 See Dick's Dog: Six Feet From an American Legend in Wantagh, NY
by Matt Morello

As the swampy heat of August invaded the cemetery grounds, the mourners fidgeted in their dusty wingtips and pulled indecorously at French collars and gingham dresses. Perhaps the gentle humming of the cicadas will bring a natural logic to the scene, as these insects will soon drift into dust when the leaves where they nestle begin to dry and crackle. The survivors at the plot must say farewell to the deceased; a friend and family member who had given love, protection, and almost never shit on the carpet. Rest gently, sweet canine, for you will spend eternity in hallowed, historical ground. Your four-legged neighbor a few rows to the east was not only adored by Tricia and Julie Nixon, but she saved their father's political life.
How exactly did a cocker spaniel manage to resurrect Richard Nixon's republican hide? Before he was the man who would be king, Nixon was the vice-presidential candidate on Eisenhower's ticket, a formidable political spot for young Senator Nixon of California. Fresh from the witch-hunting with the House Committee on Un-American Activities, Nixon was ready for his veep run until a slight question of ethics arose like Godzilla from the Potomac. While it's difficult to believe that young Nixon's early political career was muddied with scandal, Dick did have to account for thousands of dollars in a senatorial slush fund. The irony was too great - the Commie hunter had been stalked, captured, and had to fess up to the country exactly how he received so much loot. In a nationally televised speech, Americans huddled around a tiny, grainy Nixon as he spoke about the money and his dog, Checkers. Pet lovers and flag-wavers listened to a politician speak with sincere passion about his dog as Nixon transformed himself from bribe-accepting candidate to the uncle in a Norman Rockwell print. Nixon's tale of Checkers was a T-bone steak of honesty in our collective dog dish, and Ike kept him on board. Man's best friend, indeed.
For thirty years, the court of King Richard has been analyzed, probed and satirized to the point where Richard Nixon's mask-like visage has become an icon of political insincerity. But what about Checkers, the dog who essentially helped Nixon ascend to the country's high throne? Checkers, our most famous Long Islander on all fours before Amy Fisher, became a permanent resident of Wantagh in 1964 when Nixon had her buried in the Bide-a-Wee Pet Cemetery. Is Checkers remembered by Nixon devotees? Do rowdy Young Republicans hold vigils at her grave while blasting Creed and popping cat tranquilizers? Wendie Grossman, director of the cemetery's outreach and education program, generously dished some dirt (sorry) on the dog behind the man.
While strolling amidst headstones with somber, misspelled epitaphs to "Muffy" and "Bosco," Wendie proudly claimed that Checkers' grave is the most visited in the cemetery, which, like fans of Mark Kostabi, proves that there's no accounting for taste. I learned that Checkers' most popular year was 1994, the year of his master's death. Followers of Dick left political pins and weepy letters at Checkers' grave, but Wendie claimed that the whole year lacked any real ceremony. I was amazed and somewhat saddened to learn that personality cult pilgrimages to Checkers' grave are simply not de riguer for the Nixon crowd. How soon we forget our heroes. Where are the legions of Nixon fans initiating a mondo tribute while drunkenly stammering the "Checkers speech" long into the Wantagh night? How about a graveside rave with laced Milkbones and a RuPaul sighting? Checkers, we hardly knew you.
* * *
Directions: Checkers is buried at the Bide-a-Wee Cemetery in Wantagh (516-785-6153). Take the Southern State Parkway to exit 28S. Turn right on Wantagh Avenue. At the fifth traffic light, turn right on Beltagh Avenue. The cemetery will be on your left, across from Wantagh High School. Checkers is in section 5, grave A38D.

About the author:
Matt Morello has one heckuva bone to pick with David Blaine.