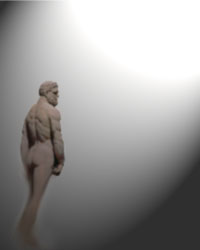 Thor & Perseph by Chevy O'Regan

Thor grooves to Eric Dolphy.
He's getting slowly, sweetly hammered
in a swirling bacchanal of jazz & gin.
The ice in his glass, the tock
of the hammers on the bones, the tones--
he readies himself for "Bags" Milt Jackson.
Outside the woodpecker taps
until the sap's
running freely. Nature's black-
board's not been erased in months
and all its lessons are lost
in a tangle of chalk, dust finer
than reason. Rahsaan Roland Kirk
chants, intimately, and to Thor alone:
Clickety clack! Clickety clack!
Somebody's mind done got off
the goddamn track.
Thor is invincible. Who needs these
looky-loos? Thor thunders over his gin-and-olive
picnic, lightning being his forte.
He's beginning to think
he thinks in italics. For no reason at all,
Thor longs for spring. Persephone's a gas,
always good for a laugh,
perpetually in the mood to romp,
cross-cultural conflict be damned.
Perseph's favorite come-on is Thor's
best parroting of Wittgenstein:
"Quote. Some bullshit. Quote, quote."
She loves it when he flashes
his philosopher's badge. "Are you ready, baby,"
he calls, "'Cause we're making some poetry tonight!"

About the author:
Shanna Compton grew up in Texas and has been in New York since 1995. Her poems have appeared in Borderlands, elimae, West Wind Review, Santa Barbara Review, and elsewhere. New work is forthcoming in La Petite Zine, CROWD, and Good Foot. She lives in Long Island City. She can personally vouch for the fact that Bill Spratch has an acute fear of umbrellas.