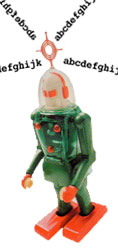 Absolutely Guaranteed

Never wonder again! Eliminate
guesswork from the creative process.
The Genius Meter installs in three easy steps:
1) Plug in the unit. 2) Set choice of color
and alarm. 3) Read into the convenient
built-in receiver for instant results.
Choose from maple, cherry, or brushed
aluminum. The rotating Brilliance Light
with variable speed displays in red,
green, or amber. Use the preset alarms
(Enthusiastic Applause, Neutral Low Hum,
Stinker Buzz) or record your own.
Visit our website for testimonials
from Harold Bloom, Helen Vendler,
and MFA students nationwide. The Genius Meter
objectively evaluates your original creations--
and contains databanked judgments
of more than 150,000 classic works!
Call now, and you'll also receive
this full-color Artistic Success Chart
and our easy-to-understand manual
with instructions for sestinas, Georgics--
even those complicated forms like
the rannaigheacht mhór and the cyrch a chwta.
Do you have the patience to develop craft
through traditional trial-and-error?
Or would you rather save thousands in postage,
reduce waiting time between composition
and publication by 99% over standard methods?
How do you know if the Muse is with you?
With the Genius Meter you can be sure!

About the author:
Shanna Compton's poems may be found in La Petite Zine, CROWD, Good Foot, elimae, and elsewhere. She has an MFA from the New School and serves as poetry coeditor of LIT. She lives in Long Island City.