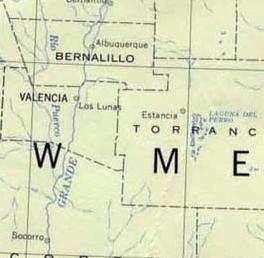 New Mexico Stories (true, for the most part)

I.
Find My Doppelganger
Considering I had just left some Third World country for Albuquerque, where I knew no one and had little reason to be, the rumors of my debut on world-famous Canyon Road in Santa Fe came as a big surprise to the small number of people I'd met since my arrival here. And discovering that I was the Art Pick of the Week in the city paper was like seeing my name in lights on Broadway: Deeply disturbing.
I studied the featured artwork. It was fiercely erotic. It didn't look familiar and wasn't quite my style. But there was my name, my unusual surname, which (I'd once heard) roughly defined my German ancestors as strangers or outsiders. Aside from that, I'd never heard nor seen it used to refer to anyone outside of my immediate family. But now this: My complete name in print and headlining an exhibition for reasons unknown.
It could only mean one thing: My evil twin was here.
He appears in many places and in many forms. In college, classmates alleged that I gave a wondrous performance at a concert to benefit the Chapel Hill food bank. Oddly enough, two hours prior to the concert and a hundred miles due west, a case of mistaken identity landed me in Forsythe County Jail on charges of public indecency. So I could not have possibly been on stage on the night in question. Or any other night, for that matter, because I have less musical talent than a singing raisin. That was what troubled me most over the years of allegations, that my double was always doing things I could never do and having more fun than I ever would. That and his habit of disappearing long before I could begin to investigate.
But this time I had proof. I had my name in the paper, along with the time, date and place that I would appear next.
The turnout at the opening was overwhelming--or at least greater than any turnout for my exhibitions--but I picked him out immediately. The spitting image of me, only slightly taller and better dressed. To keep from staring at him, I took a copy of his vitae and studied it. I found my name above a decade of achievements that immediately wrought within me a furious envy. I had the sudden urge to tear up his vitae, knock the pictures off the wall and drag his monkey ass off into the desert, all the while screaming: There can be only one!
It was a brief yet disturbing impulse. One that forced me to consider for a moment that I might in fact be the evil twin. And it was in that moment that a stranger approached, a casually dressed young man I hadn't noticed earlier. He noted the crumpled paper in my hands, then introduced himself.
"I'm Stephen Ausherman," he said.
I hesitantly accepted his handshake and replied, "So am I."
I glanced back to where my twin had been, but he was gone.
- - -
II.
The Struggle for the Inner Circle
Why is Tony Aragon smashing my head?
The main reason, he explains, is I need to loosen up. Instead, I'm clenching up, shuffling awkwardly, and leaving my face exposed to his armada of hooks and jabs. The boxing ring is an unfamiliar environment to me.
What can I do to feel more natural here?
It will come, he promises. It just takes time.
Five years have passed since I moved to New Mexico, and I still don't feel natural here. Boxing is my latest attempt to accessorize my image as a local. Albuquerque tends to embrace pugilists as local heroes. I'd hoped to absorb some of that urban admiration, but then three minor concussions in as many rounds got me rethinking what it means to be a part of the community.
I'm not asking for induction into the Navajo nation and I don't envy the descendents of the Conquistadors who crashed the region a century before the birth of Virginia Dare. But I do want some stake in the heritage, along with the security and sagacity it seems to offer. I've never had that. I sought out the lands of my lineage, but could find no rapport with my place of birth (China) nor my mother's (Holland) and certainly not my father's (Chicago).
If I'd ever established my sense of place, it was in Chapel Hill, North Carolina. But I severed those ties long ago, as did my friends and family, and I've since heeded one Carolina native's most memorable warning: You Can't Go Home Again.
So now I look to Albuquerque for acceptance. And to speed up the process, I moved into one of its older neighborhoods, into a pueblo-style home with Spanish tiles, a kiva fireplace, and adobe brick walls. I also got a pickup truck and a tattoo of Jesus on my shoulder. I grow green chile in my garden and I know how to grill a mean fajita. I tried to practice Spanish in the neighborhood bars and markets, but few folks had the patience for it. So instead I study a subtitled version of Fight Club. I am learning Spanish (and a few boxing tips) from Brad Pitt and Ed Norton.
I am also learning that cultural mimicry will not improve my status here. None of this is helping me loosen up in the native sense. And why should it? I didn't pledge my allegiance to Chapel Hill by emulating Andy Griffith and Michael Jordan. I acculturated through nearly two formative decades-K through MA-and submerged myself in Southern indoctrinations that don't wash out easily. Even if I drove a lowrider, excavated Anasazi ruins, forged O'Keefe landscapes, and crawled on wounded knees to receive penance atop El Cerro Tome, I'd still be about as New Mexican as kudzu. A Southern cracker like me would find better luck assimilating into Harlem, New York. It's true. Just look at Bill Clinton.
I have to face it: I need roots and I need them fast.
Recently, while celebrating the fifth anniversary of my arrival here, I was informed of an old letter discovered a thousand miles away. Its contents renewed my faith in finding fellowship in the Duke City. It illustrated a family tree in a way I thought miraculous.
New Mexico is plentiful in miracles, and this one begins with Gabriel.
More specifically, Inspector-General of the Department of New Mexico Gabriel Rene Paul, who begat Julia, who, in 1861, begat John in a prominent Albuquerque home. Stay with me here: John begat Duffy, who begat Mary Jo, who begat Betsy, who married me.
I know it's a stretch, but I can now say I have roots in this town that go back 140 years. In Southern terms, such a legacy would probably near qualify me for induction into the Daughters of the Confederacy.
But it's different here. My wife and I have since visited that Old Town home (now a restaurant) to share the news of our kinship. The response we received glowed with complete apathy and sincere indifference. It seems access to Albuquerque's inner circle isn't granted with a wedding ring or in a boxing ring, though I do believe both can help. Either way, it will take time. I just sometimes wish the local sport were more akin to caning for catfish.

About the author:
He is also a freelance writer/photographer from New Mexico. His literary travel stories include dispatches from Iraq, Honduras, Vietnam, Korea, the Philippines, India and Tanzania. His essays ran in The Korea Times, Nerve.com and elsewhere.