Room to Rent

Roses are red, violets are blue;
I'll love you to the power of 2.
Jane liked this. After any number of false starts, this simple mathematical formulation worked best for her. She was now in exponential mode, and felt an exponential need to celebrate and elaborate upon the sentiment of love — all on the eve of St. Valentine, thus hardly by coincidence.
'My vacant room has space for you' as a second verse to this couplet didn't quite strike the right note. It sounded to her ear just a bit too desperate — and suggested too much concern with filling undesirable spaces.
She owned the space. That fact was not in dispute. So filling a void was not her point. 'Complementing' the existing space was much closer to the tone she wanted to set. And tone, after all, was what this was all about.
But it was also about flow. The ebb and flow of two bodies in a space underserved by the enormity of one. One body. One heart. One enormously lonely heart.
Jane crouched down beside the bathtub. She opened the faucet for a few seconds, then closed it and watched the tub swallow up its meager contents. The drain sucked down the last little stream of water until only a few hardened, glistening, surface-tensioned drops remained behind. She then opened the faucet once again. Then closed it again. Again, and again, and again.
No, simply creating and then filling the void was not the challenge.
When the mood of ebb and flow began to recede, Jane went back to her writing table. Prior to her meditation upon the bathtub and its contents, she'd been creating Valentine's Day ditties — mere warm-up exercises, really, to the more serious task at hand: the composition of a sign to catch her complement. The ditties, she knew, she could slip under her own front door just past midnight — as she had in years past.
Jane liked to play with languages, as they were the only adult toy she owned. God knows, she'd worked hard enough to acquire them. And yes, she supposed she had a knack. But she also had a mirror. With it, she'd long since struck a bargain: no lies. The mirror said nothing of her talents as a linguist.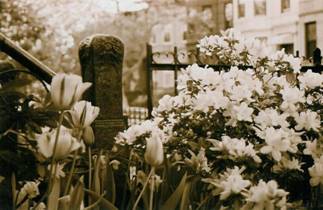 Les roses sont rouges, les violettes, bleues.
Relève ta violette, mignonne, et je te donne la queue.
French was her favorite for off-color. She didn't really think of it as pornographic or even erotic — either of which was something for women boasting, coasting on accoutrements. Jane had no such accoutrements, and so she lived all of her eroticism in her head. Sometimes, just for kicks, she even imagined herself the man. She didn't quite know why.
In any case, the thoughts still obtained. She could fantasize in any number of languages, which fact enabled her to keep her fantasies suspended at a safe, foreign-sounding remove. This estrangement allowed her to maintain a certain zone of comfort and security.
Las rosas son tintas; las violetas de color azul-cerulio.
Subete, mi amor,en mi rastrillo, que te tome por el culo.
Crossing the Pyrenees fired something Janusian within her flattened, tired breast. Her thoughts invariably turned darker, more punishing, with a complacent — because safely distant — acknowledgment of both pleasure and pain. She wallowed in her image of Iberia, imagined herself in dungeons, surrounded by hooded, torch-bearing tormentors and walls of ice-blue tenterhooks. In Iberia, she felt oddly at home.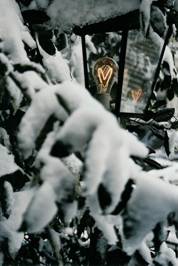 Le rose sono rosse; le violette blu.
Parlami di amore, poi mostramene nei tuoi dessous.
Her Italians were romantic and silly. Sweet, romantic and silly. But above all, silly. They were absolutely incapable of love or sex without the full-stop of a giggle.
And so she on — to passion. Serious, painful, soul-wrenching passion. She was in the mood, and so moved on, to Russia.
Розы — красные, фиалки — синие;
если вы мою душу заморозить хотите
пламенем облейте меня.
So Russian of the Russians. No predicates — for economy. And yet, three verses required where the so-called Romance languages had barely the bits for two. She didn't begrudge the extra verse. Russians were an intemperate, soul-searching people. Time was not money. Time was for expanding upon matters of the soul.
Jane had all but exhausted her linguistic bag of tricks. She'd been west, south, east. There remained only north — as close to the Pole as she could, linguistically speaking, climb. And so, to Sweden:
Rosarna är röd.violettarna
är blå;
Har du tid

för mig? Annars, vill jag gå.
The Swedish left her cold, like the herring. However, it was quite short and to the point — particularly on the tail-end of long-winded Russian, which invariably left her huffing and puffing.
There was German, of course. She knew that German could be hard as boots on cobblestones, the cadence crushing, the momentum mounting until even her own inner ear succumbed to the clout and shout of it. She shivered — then opted for "German lite":
Rosen sind rot; Violetten, blau.
Wir sind nun getrennt; aus ists mit Helau!
Jane let out a quick sigh of relief and laid down her pen. She'd warmed up, exercised. Now was time for truth in action. Her space, her need for a complement, called for it. It was only a question of how to render that need — not too blatant; not too needy; not too desperate.
If the head upon your pillow stirs as restless as my own,
if instead of hot-crossed buns, you'd be content with tea and scones;
Then put your hand upon my bell and—
The front door bell rang. Who, she thought, at this uncoupled hour?
Jane got up from her writing table, peeked through the Judas window, put on the security chain, and cracked the door open.
"'Scuse me, ma'am."
"Yes?"
"I believe you have a room to rent. I don't presume to know the truth of it. I'm merely here to explore an opportunity."
Jane inspected her visitor up and down through the limited Judas crack of a window, then dropped the chain and opened the door. "Come in, then, if you please." He was not pretty — but he was young. And had the eyes of youth, honest and unjaded. "And your mission?" she finally asked.
"My mission, ma'am, resides merely in the seeking of a room and accommodation. Not in distressing or disturbing, but rather in complementing."
Jane stood silent and considered: he'd found the word.
"I am fresh up, ma'am, from down south. These parts are foreign to me. I came by way of instinct to your door. If in error, I apologize, and will now humbly retreat — as is my heritage and my habit."
"Wait," Jane said. "Tell me what it is you seek." She felt herself being sucked in by this stranger's peculiar language, and scintillated with the joy of a whole new linguistic expedition. "And you can pay?" Jane's no-longer-tender age and station in life caused her to jerk the tiller in the direction of 'pragmatic' and steer clear, for the moment, of 'erotic.'
"I do. And have here the coin to prove it," he said as he reached into the pocket of a jacket that had seen better days.
"That should not be necessary," Jane said, stopping his search with an outstretched hand that came to rest upon his. "You will do." And do splendidly, she thought to herself. "Come in. Drop your bag and hang your coat. Then let us take a tea."
"Ma'am," the young man said, indicating with an almost imperceptible upward glance a map Jane had hanging on the wall over her writing table, but at which she, herself, hadn't looked in many years. The map represented something she had left behind to come north in search of a career, of opportunity, of love — or so she'd thought at the time. "I, too, come soft from down below that line — and would now be your Valentine."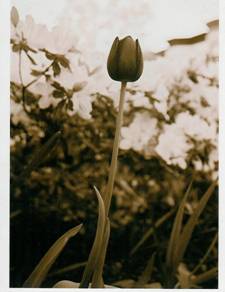 About the author:
Russell lives in Brooklyn, New York. His work has been published on paper by The American Dissident; The Blind Man's Rainbow; The Lyric; The Barbaric Yawp; The International Journal of Erotica; and Wicked Hollow. Onlinie, his poems can be found at: Quintessence-encouraginggreatwriting; ken*again; spillwayreview; erotica-readers; edificewrecked; ink-mag; and salomemagazine. Two additional poems will appear in early 2005 at Thieves Jargon, and a third at Mindfire. His prose appears at Satin Slippers; ink-mag; GirlsWithInsurance; Quintessence-encouraginggreatwriting; SkiveMagazine; Undergroundvoices; DeadMule; and Yankeepotroast.org. His photography, to date, has never been published. He completed his first novel, Trompe-l'oeil, in September of 2004.