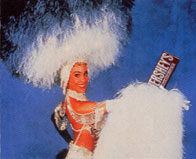 The Promise

At 1:00, I am like "Where the fuck is the food?" I'm sure I'm not the only one thinking that. The 2001 Weight Watchers "Everybody Lose Now" royal luncheon with Princess Fergie scheduled to bound in for her keynote. I am sitting with my mother (35 lbs. in two months), her friend Gail (I don't know), and some wild eyed bakesale condor of a woman, perched and resisting her urge to plunge and feed, who I do not know.
I could plunge into something dead right now. So hungry. Backstage, Fergie is doing God knows what. Forget I said that. She just busted in. 1 fucking fifteen and she shows up. Mom, right now, is not interested in what I am waving in her face and chopping at her shoulder pad with. It's the invite. The laser jetted calligraphy lies themselves. Lunch will be served at 12:30. I don't trust these people and I don't want to hear the princess, and neither should you.
So I leave. About fully. There is a bank of phones in the lobby of the Days Inn where we are. We are at a Days Inn. I will leave and lighten the building just to tease the foundation. Outside the pool is covered up and this is not very interesting. Back into the luncheon. Back out. The building shudders as I come and go. I am here to drive my mother home. Now, go to the phones. I am calling 800 numbers at random. You can spell out seven letter words, many of them. Anything gross is taken. I call (1-800) WEIGHTT, and FERGIEE. My mother is laughing hysterically within the applause. Their cheering burns calorie after calorie around and around their hot hearts.
I dial AIRPORT, DUCHESS, CALORIE, and they all ring on and on. They run on and never run out. The fountain next to the phone runs constantly. It seeps continuously, it barely shares without end. It isn't the operator's job to tell you the time anymore, but the 411 person says twenty past one. There is some sort of explosion. A few can run bonelessly now, for a time.
Now, dead, our weight is like an inside joke that echoes as an insult, that calls to mind those dreadful meat suits. To remember them is to haul their downward pull. We have learned, finally, that nothing is smoother, more royal, than air.

About the author:
Michael Andor Brodeur is the editor of Both Magazine. He lives in Massachusetts.