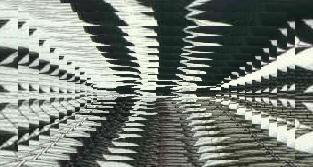 Infinite Value

We do not seek the future, it is thrust upon us-and then how we yearn for the past.
Cirrostratus clouds rolled out over Maryland and beyond keep me relatively calm.
Still there's the fear of infinity, stretched onward and backward, that I quell in a rest area with coffeee and a book.
Stuttering on the Jersey Turnpike-
I'm kept sane by the realization that I don't have to be anywhere until tomorrow.
And I could care less if I never got there.
In another rest area. Too dark for the book now. The radio talks about the death penalty.
Women wait in line for the bathroom. I drink a mocha, smoke a cigarette, watch the people stagger around. They get their land legs more quickly than usual-they haven't been driving that fast-but they still have the stunned look of the Interstate Traveller coming down.
I think about a witch from Iowa, in DC now, who told ghost stories very well-
"it was tracking us"
"I couldn't quite wake up"
-and then she spoke in some ancient language. I think she had gotten a rise out of a few unsuspecting souls in the past, but I said, "Wait, that's Chaucer."
Still it's not every day a woman speaks Middle English poetry to you on a warm night in the nation's capital. Or, well, it doesn't happen to me that much. And I shift-thought to Gab, impressed by the simplicity surrounded by complexity afforded by a walk in the woods. It's always cool to introduce friends to experiences they didn't know they wanted, or to meet people so familiar you're surprised you never knew them before.
It's these small things that keep the fears down, make the daily torture worthwhile.
Always seemed such a better alternative to suicide.
Time is a strange commodity, doled out from a seemingly endless resevoir.
And once you've paid out the living expenses anything left over is that much more precious. I live for even the tiniest amount of this abstract commodity. Adding slowly to my hoard of the past, never sure that the future holds any more of these nuggets.
But it's addictive and I am a prospector.

About the author:
Pete Kelleher is not quite satisfied.