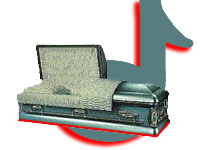 Music Requests for a Funeral and a Wake
by Paul Bacon

SIDE A: MY FUNERAL
1. Prodigy, "Climbatize" - As mourners take their seats in the funeral chamber, this energetic dance track will seem out of place, adding an element of disorientation to their grief, setting my trap.
2. Dan Fogelberg, "Leader of the Band/Washington Post March" - Since my father has vowed to outlive me, I aim my first posthumous smite at him. In the same passive-aggressive way he suffered my burdensome rearing, I dedicate to him this touching song of a man who regrets never having told his dad he loved him enough. Whoever wasn't crying before is crying now.
3. The Waterboys, "This is the Sea" - My mother--still tortured by memories of my near-drowning experience when I was five--will be chilled by this song's haunting allusions to the infinity of spirit as it flows like a river to the ocean.
4. Dan Fogelberg, "Same Old Lang Syne" - Back to Dan again for his left-handed ballad about bumping into an ex-girlfriend who broke his heart and is now unhappily married to some jerk. This was a popular song in my high school days--when I got dumped a lot--so it's sure to bring back painful memories for any old flames in attendance.
5. "Braveheart" soundtrack, "Gift of a Thistle" - Since I am certain to die bravely, this uncanny ode to my thoughtful masculinity should send folks home knowing I always knew exactly what I was doing. It is well to present an aura of omniscience, especially in death.
SIDE B: MY WAKE
1. Tricky, "Makes Me Want to Die" - My only hope for posterity is that my embarrassing traits might fade into the background of my affable demeanor. To that end, I select the wake's first song to encourage mass intoxication, giving mourners a head-start on forgetting everything that will be said about me at the party. I choose this queasy dirge by my favorite psychedelic DJ to start things off on a note of uncomfortable gloom, driving attendees as quickly as possible to the well-stocked bar.
2. Bootsauce, "Pass the Shotgun (Please)" - Just once, I wish somebody would listen to this band from Montreal that I keep saying is so cool. Like every group I latched on to early in their career (Zebra, Rush, et al.), Bootsauce all but faded away without making any lasting impression on the music scene. In my final act of earthly kindness, I bequeath them a free play at my auspicious gathering. The rest is up to them.
3. Incubus, "Magic Medicine" - Same for these guys from LA, although I think they actually got some airplay a few years ago.
4. Leonard Cohen, "The Future" - Best described in excerpt: "You don't know me from the wind, you never will, you never did, I'm the little Jew who wrote the Bible."
5. John Denver, "The Music is You" - Mourners will be devastated by this musical summation, defenseless against its hateful chirping and subliminal damnation: These songs are about *you*, who will die soon, by your own hand; but me, I'm Jesus!
"Music paints pictures and often tells stories
All of it magic and all of it true
All of the pictures and all of the stories
All of the magic, the music is you."

About the author:
Paul Bacon is a cartoonist and writer whose work has appeared in McSweeney's, Mother Jones, PBS Online, Salon, San Francisco Examiner, and Wired. He is an editorial intern at Modern Humorist, a member of the Americana Project literary series, and a former staff writer for Might magazine. Visit www.paulbacon.com for samples of his work, and a revealing personal profile, including the contents of his refrigerator.