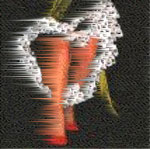 Dances Demon Fast

My sister walks slow as a snail
brown Birkenstocks molded
to extra wide feet, shuffling
along, one speed
only. Too slow for me.
My sister walks slow as a snail but dances demon
fast.
She dances the salsa, her favorite dance
now, in high platform shoes,
white canvas uppers, collected
at a market in Costa Rica. The
shoes, her salsa-ing feet,
both
surprise me, as much a surprise
as Miguel was.
My sister's surprises, surprise,
never quite end.
Short phone calls,
many silences, single
word
answers.
Sporadic emails.
The seldom written letter, even more
seldomly mailed.
And then
a silk scarf, red and pink,
arrives in my mailbox on Thursday
without a note.

About the author:
In her spare time, Kathryn Knudson writes fiction & poetry and works on crossword puzzles in airport terminals. She lives in Minneapolis.