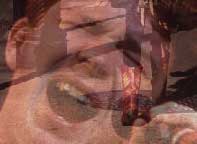 Pop Music

New Orleans is not the best place to revive a relationship. All those vine-strangled concrete caskets laying up on the surface of the earth. All that brass funeral music getting stuck in the sweaty air, hovering there. I couldn't stop hearing it.
But I was twenty, Nicky was 18, and nobody had told us that in Nawlins, in July, the brutal humidity is like an above-ground swamp, and that you're instantly too tired to work on working anything out. We had trouble doing much more than avoiding each other's glances and staring at shirtless, animal barbacks whose sweat dripped off their pecs into giant plastic go-cups, becoming the secret ingredient in each overblown Hurricane. Maybe three days in the sticky heat would help us stick together. Maybe we would just melt down.
"Damn it. I'm sick of laying around doing nothing." Nicky jumped up from the damp, threadbare divan on our French Quarter balcony. "I'm going for a walk."

For more drinks. And a barback or two.
I knew. But all those Hurricanes had taken the storm out of me.
"Go," I mumbled. "Get."
He grinned to himself, strapped his silver CD Walkman around his waist, and snapped in Rick Astley. Together Forever. That was Nicky, all shiny gizmos and relentlessly upbeat dance tunes. As he stepped away, I admired the way the hazy sun pushed through the wrought iron bars of the balcony, throwing tendrils of shade on his khakis. I stared at shadow-vines wrapping his legs, clinging to his butt.
- - -

The hazy son. The desire for optimism. The music that hangs in the air. The harmony of eros and thanatos.
We don't compose the songs we're forced to dance to.
I had met Nicky on the night Dad told me he was dying. Sort of.
- - -
I had been avoiding my father. We were living in the same city, but I saw him as little as possible. This was agreed. When I told my parents that I was returning to the city where they raised me, I also began to insist on being left alone, on disengaging from our family.
I had my rights. To privacy. To my own exclusionary life.
It drove my father crazy, but he generally went along, suggesting it was a phase, like most of my life. Eventually, I'd be ten again, and we'd pick up our game of catch in the yard.
Dad telephoned one afternoon. It was the day before a Jewish holiday -- Rosh Hashanah, Happy New Year. One of my brothers was still at home, in high school. The other was coming down to Philly from college for the weekend. Mom was cooking. Aunts, Uncles, Cousins -- all of those people you try not to give a damn about when you are 20 and trying so hard to be an independent, freshly minted faggot -- would be coming for dinner.
"So tomorrow..."
As he spoke I could hear his stereo in the background. Not his usual Linda Rondstadt or Three Tenors. It was Chet Baker singing Hoagy Carmichael. I Get Along Without You Very Well.
"Dinner is at six, but I need you guys to be here for something at 4:30. Your brother's taking an early train."

It was September, and I was sure that, like most years, Dad wanted to use the holiday gathering as an opportunity for my brothers and I to move his heavy wrought iron patio furniture down to the basement until next summer.
"I'm really busy, Dad," I spoke flatly. "I'll be there by six."
"Son," his voice wavered, then cracked. "It's important."
Not the patio furniture after all. Some kind of dramatic proclamation, organized, controlled, kinfolk gathered around.
First flash: My parents were getting divorced. No. Impossible.
"What's wrong, Dad?"
I was scared.
"We're not getting divorced." He laughed, nervous. "Get that thought out of your head."
"What is it then?" Now my voice cracked. "Is something wrong with Mom?"
That was it. I gasped. Breast cancer.

"No. No. There's nothing wrong with your mother."
"Then what..."
"Tomorrow. 4:30. OK?"
"Dad? Are you alright?" Panic rose in me. It was something really impossible. "Is there something wrong with you, Dad?"
"I can't talk about this now." His voice was all cracks, no control. "Tomorrow. 4:30. I love you."
- - -
"I have to sit around and pretend nothing's going on," I sputtered to my friend Jackie over dinner that night. "Tomorrow afternoon, he's going to tell us he has cancer or something, but I have to play ignorant, because he wants to be fair or something. Needs to tell all of his sons simultaneously, like some Shakespearean drama. But I know already, at least the gist of it, and, for him, I have to pretend not to know. I'm not allowed to be upset until he waves the starting flag. Damn it!
"I'm sorry," I hairpinned. "Maybe I'm being an asshole. It's his life, not mine, right? Do you think I'm being selfish? I should think about what he needs, right?"
"I think," said Jackie. "That you should wait. Maybe its not something so big."
"It's big." I was certain. "But, hey, I don't know anything about it yet. Right? So fuck it, lets do this review."
I was doing restaurant critiques for the local weekly where I interned. Jackie and I were eating at The New South Café, the subject of my next column, a little bistro on South Street with a fey New Orleans accent. Phyllo triangles with ground andouille filling, rock shrimp grits, bananas Foster crème brulee, that sort of thing. The place was decorated in pretty floral prints, green carpet, twinkly votives, trellises against the walls, Enya on the stereo. But the servers were old school South Street: sullen attitudes, safety pin earrings, vintage granny glasses, combat boots, pink streaks in the hair. The overall effect was Laura Ashley meets Invaders from Mars. That's how I eventually put it in my write-up.

I also wrote, only half-joking, that I felt sorry for the one bright-eyed, clean-cut Oxford-shirted waiter I kept watching across the room. He didn't seem to belong in this story. It was as if he'd just stepped out of the lawnmower page of the Sears catalog and into an alternate universe.
Jackie and I actually managed to have a few laughs over dinner. The next morning I ran over to the newspaper office. Typed up my piece. Filed it.


- - -
At 4:41, Dad said the word leukemia. (I looked down, to check my watch). Even today, I can't tell you what type of leukemia it was, which sort of corpuscle was doing the wrong thing, or any of the other technical details my father spelled out, meticulously, for twenty minutes, filling the void with data. I remember hearing the phrase "six years on the outside" and I remember watching my mother's skin go blotchy. I remember my brothers curling on the couch, closing in on themselves as they tried to pay attention.
Mostly, I remember watching the afternoon light, hazy sun slanting through the blinds of my father's den. A million illuminated dust motes floated by, unguided.
When the family meeting broke and everyone else wandered off to their bedrooms, I stayed there, in that den full of gold dust, thumbing through my father's cabinet of vinyl lps. The whole front row was my parents' everyday aural diet of John Denver, Barbara Streisand, Neil Diamond, Roberta Flack; their heavy rotation for as long as I could remember. In the second row, though, rarely freed of their dustjackets, were the albums my father had collected much earlier. Before he was my father. Dr. Longhair. Ruth Brown. Fats Domino. Etta James.
In less than an hour, the doorbell started chiming. It was holiday dinnertime. Perfectly distracting. All those cousins and briskets and blessings. It was a brilliant bit of choreography.


- - -
I danced every night for the next two weeks, burrowing into Kurt's, a Playskool-bright gay club in the basement of the Adelphia apartments on Chestnut Street. The puffs of talcum disco smoke around the dancefloor bothered me; they smelled like my childhood barber shop. But otherwise, I got lost in the flashing lights, the stupid, thumping music. Taylor Dayne sang "Tell It To My Heart," Rick Astley crooned "Together Forever," and Whitney Houston proclaimed that she wanted to dance with somebody who loved her. Fine for Whitney. I wanted to dance with someone who would take me to bed and let me pound away.

By the second Sunday of my debauch, I was tired . My friend Greg sauntered over with another guy as I nursed a vodka at Kurt's back bar.
"You two just have to meet each other!" Greg gestured to the freckle-faced, ginger-haired boy in Gap jeans and a navy turtleneck.
"Hi," I said, non-chalantly pivoting on my barstool.
Greg giggled, stoned.
"Guess what his job is?"
"How should I know?"
"Here's a clue: he got off from work just now!"
Greg's friend glanced over and rolled his eyes at me, conspiratorially: Indulge him.
"Greg, I don't know. I give up, ok?"
"Allrighty then," Greg spun on his heels and pointed at the other guy. "Why don't you guess what Jon's job is?!"
"Ummmm...An astronaut? He looks like an astronaut."
I laughed.
"Fine then! If you boys aren't going to be any fun, I'll just tell you," Greg paused, and cocked his hatchet blade face.
"Nick is a waiter. And Jon is a writer." Greg walked away, turning back for just a moment. "Jon writes restaurant reviews."
"You! You're you?" Nick came right up beside me. "I'm kind of pissed at you." He always smiled, even when he was kind of pissed. "Why did you say I was a lawnmower boy?
I looked at him, handsome, wholesome, and it all made sudden sense. My turn of phrase had come to life. Nicky had stepped out of my restaurant review and into an alternate universe.

I didn't want him to feel offended. I offered him a drink.
Surely, I could win him over.
I'd already made him once.
"I wuuuuv this song, da-da," Nicky babbled an hour later, crazy drunk and pressing hard against me on the dancefloor, sweating, and smelling like milk.
It was Dead or Alive. Nicky sang in my ear, "You spin me round, like a record baby!"
Despite his questionable taste in music, I needed him to be my boyfriend.
- - -
The father. The son. The human shield.
I would bring him to dinner at my parents' house once a week. I felt proud. Self-satisfied. Nicky did all the talking.
Shake your love, sang Debbie Gibson, I just can't shake your love.
- - -
"Did you ever listen to Dr. Demento?" I asked Nicky in bed one night six months later.
"Oh yeah! My gosh, I forgot about that."
"Fish heads, fish heads, roly-poly fish heads," I sang.
"Fish heads, fish heads, eat them up, yum!" He bit my nipple.
At nine o'clock on Sunday nights, Dr. Demento, a Los Angeles based disc jockey hosted a nationally syndicated radio show that featured idiosyncratic selections from his vast, decade-spanning record collection. Old novelty tunes were his specialty, from passing fads like "The Streak" to the enduring satirical concoctions of Stan Freberg and Tom Lehrer, to funky dirty New Orleans R&B. When we were kids, my brother and I would listen in Dad's den, reading the Sunday papers as our father paid the bills. Dad would offer little verbal annotations of the oldies: "Your grandmother met Stan Freberg, once" or "I played Monkey Bar Blues on the harmonica in eighth grade."

"I would listen to the whole show," reminisced Nicky, snuggling up against me, "hoping he'd play Alvin and the Chipmunks."
"You're kidding! Why?"
"I like them," he said defensively. "They're cute."
I'd once thought so, too. But my father found them irritating, and made us change the station when they came on.
"My friend the witch-doctor he told me to say..."
Nicky sang in my ear, rodent-style, as he reached over and tickled my belly.
"Cut it out!" I turned my back on him, thrashing.
"He told me, ooo-ahh-ooo-ahh-ahh, ooh-ahh, walla-walla bing-bang..."
"Fuck you!"
I leapt from the bed and slammed out of the room.

From the very beginning, Nicky and I were a battleground.


- - -
We were going to break up on Memorial Day. There was a picnic with friends, and ants, and insults. I made fun of Nicky for not knowing who Lou Reed and Leonard Cohen were.
"I'm from Indiana!" he whined.
Then he started crying.
"I'm sorry. I'm a prick." I said over and over in the hours that followed.
I wanted to love him so much.
I was so angry at my father.
He had been depressed and gloomy and needy since the announcement.
His leukemia had marooned me mid-rebellion. The man I was supposed to reconcile with was gone. He'd stepped right out of the usual story. I couldn't follow.
We fought and fought and then we decided we should take a little vacation.
New Orleans.
- - -
After Nicky headed out into the Quarter, I sat on the balcony, looking at the peeling paint on the shutters across the street and flipping through The Southern Voice, a free newspaper I grabbed in a bar the night before. A listing in a music column caught my eye: Clarence "Frogman" Henry, Thursday, 9 pm.
No way! Even in that soggy heat, I shivered with excitement.
Clarence "Frogman" Henry sang the 1956 single"Ain't Got No Home," a doleful, yet rambunctious Dr. Demento standard that my father had been crazy about when he was 16-years-old. Sunday nights, Dad always stopped his work to sing along:
"I ain't got no fadduh, ain't got no muddah, ain't got no sista, ain't got no bruddah. I'm a lonely boyee, I ain't got no home."
Like the Frogman did on the record, Dad changed his voice for each of the verses. One normal, one falsetto ( "I'm a lonely girl...") and one in the ridiculous croak that made the song a novelty hit ( "I'm a lonely frog..."). My brother and I laughed as our father sang on those Sundays, delighted at the glint of freedom in his eyes. As he kissed us goodnight, our father belched "Gribbit."

I was shocked to see that Clarence "Frogman" Henry was playing live, because it made me realize that I'd assumed he was dead.
The concert had been three nights prior, but as I played the hit single in my head and heard the choppy piano chords and strolling rhythm, I realized that the "Frogman" was from swamp country. A local boy. And so I picked up the telephone in our sweaty bed-and-breakfast room and dialed information, asked for Henry.
An hour later, I was in a yellow cab, rolling north of the city, across flat, sere brown emptiness dotted with pre-fab houses and trailers that made me glad to be from somewhere else.
"Who you meeting out here, again?" asked the driver, squirting a jet of tobacco-browned spittle out his open window. "Ain't never taken no tourist out thisaway before."
""Frogman" Henry." I insisted. "A singer. From the '50s. I can't believe you've never heard of him. He's a local legend."
"Nope. Don't ring no bell."
The Frogman himself had seemed a bit surprised at his legendary status in my mind when I'd telephoned.
"Hello," he'd rasped.
"Is this..." Of course it was. That voice had been imprinted on my brain for years.
"Can I come see you?" I asked. "Just stop by and pay my respects?"

"Lemme axe my wife," he set the phone down and I waited for the verdict. "She says you can drop by, but don't pay no mind to the house, because she don't have no time to do no cleaning today."
"Thank you so much!" I said. "I just want to say hello, touch base."
I told him that, for me, this was going to Graceland.
"You have no idea how much this means to me." At the time, I suppose I didn't either.
Clarence "Frogman" Henry lives in a sagging white ranch house. There is a billboard-size painting of a piano-playing amphibian propped in the yard. Despite cherishing his own memories, he not accustomed to young visitors for whom his single hit song has as much significance as the entire oeuvre of the Beatles, for whom, the Frogman reminisced wistfully, he opened at 11 dates in Canada on their 1964 tour.
I couldn't find much to say. But I was happy to be this close to something that seemed important.
Clarence showed me the bathroom off of his narrow front hall.
"My wife don't like these, so I keep 'em in here."
The walls were lined with handmade six inch high shelves, crowded with figurines, salt-and-pepper shakers, rubber toys. All frogs. Clarence picked up a heavy pewter bullfrog statuette.
"Bobby Darrin give me this one," he rasped, beaming. He pointed to a bright green frog-shaped coffee mug. "Brenda Lee give me this one."
I asked if I could bring the taxi driver inside, to take our picture together in the john.
I broke things off with Nicky on the plane the next morning. He smiled hard and worked to remain upbeat, as ever. As we began the descent into my hometown, I felt the black film canister like dead weight in my pocket. A sad song welled up in my head, composing itself as the pressure dropped. I began to doubt that my father would even remember the Frogman. It started to feel more like my song than his.
- - -
It is fifteen years later now. There have been great medical advances. Drugs for leukemia.
My father is still alive.
And there is a roll of undeveloped film, rattling, like a backbeat, at the bottom of my writing desk drawer.
Sing it Frogman. Sing it.

About the author:
Jim Gladstone is the author of a novel, THE BIG BOOK OF MISUNDERSTANDING (2002). His short fiction has been anthologized in several collections and published in journals including BRIDGE, AMERICAN WRITING, and KILOMETER ZERO. He has performed in the TRAMPOLINE HALL LECTURE SERIES, THE PHILADELPHIA FRINGE FESTIVAL, and at SHAKESPEARE & CO. in Paris. website: www.misunderstanding.net.