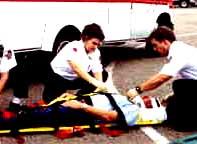 Our Life, Filtered Through an Episode of "ER"
by Jamie Allen

INT. ALLEN HOUSEHOLD, KITCHEN -- MORNING
The Allens enjoy breakfast at their breakfast table. Sunlight seeps in from the blinds, setting a yellow, melancholy mood.
JAMIE ALLEN, self-centered and wholly clueless, reads the back of a cereal box. MICHELE ALLEN, concerned about her children and the state of the world in general, reads the front page of the newspaper.
Their SON, 1-and-a-half, begs for food by the table. Michele feeds him a scrap of waffle.
Their DAUGHTER, 4, leaves the breakfast table without asking, to go watch cartoons.
JAMIE
We shouldn't have the TV on while eating breakfast.
MICHELE
(without looking up from the paper)
Are you afraid it will interrupt the riveting conversation?
There is a pause. Michele and Jamie share a look that says, "There is tension in this room, but let's not acknowledge it yet." Their Son walks off.
Suddenly, a team of PARAMEDICS bursts through the front door, wheeling in a VICTIM on a stretcher who's bleeding from his abdomen. We might even see guts.
Jamie and Michele stand. Jamie snaps on rubber gloves and helps the paramedics throw the Victim on the breakfast table. Michele heads to the utensil drawer, snaps on gloves, and brings back a spatula and some steak knives.
JAMIE
(to one of the Paramedics)
What do we got?
PARAMEDIC
(kind of dumb)
We found him on the sidewalk.
JAMIE
This isn't a homeless shelter! This is a home and emergency room! Now get out of here!
The Paramedics leave. Michele uses a spatula to dig around the VICTIM'S bleeding belly.
MICHELE
Christ. The world is going to pot.
JAMIE
He's got a subdermal hematoma or some shit. Let's open him up.
MICHELE
He's having a seizure.
JAMIE
I see that. Pull gas. Not the cereal, the gas!
They do things to make the Victim stable.
MICHELE
Your daughter has to go to school.
JAMIE
I've got a gross break here in the artery. What's the right medical term for that?
MICHELE
Your daughter has to go to school, Jamie.
JAMIE
He's a bleeder! Pressure!
(looking at his daughter watching cartoons)
Tell her to eat her breakfast! She's watching too many cartoons again. The child will have no base in reality and she'll be malnourished!
MICHELE
We have a bleeding person on our breakfast table, the second in a week, the victim of a street shooting that's somehow connected to us, but we won't find out until the cliffhanger ending. I think she's familiar with reality. But that's not important. What's important is that you take her to school! I took her all last week!
JAMIE
Michele, I'm a wee bit busy here. Clampet-thing -a-ma-jig! Scissors! Suction! Your son is playing in the gardenia. Can you do something?
MICHELE
You promised! You promised me that you would never leave me to do that again, not for a whole week. I have to work, too!
Jamie ties a knot in the stitches he's been making, then a bow, using Michele's perfectly placed finger for support. Jamie retreats from the table, snaps off his rubber gloves.
JAMIE
Clean him up and ship him out. He's gonna be all right. ... Listen, fine, I'll take her to school. I'll take the boy, too. Kids! Load 'em up!
The kids do not move. Jamie gives Michele a peck; she doesn't reciprocate.
Jamie picks up his daughter and son and leaves the house. After Michele hears him close the door, she reaches for her orange juice, but finds that it's tinted red by blood.
She weeps.
- - -
INT. ALLEN HOUSEHOLD, KITCHEN -- EVENING
Michele arrives home with the kids. It's in the early evening, and it has been a long day.
The kids run off to play like good children. Michele fixes herself a glass of Chianti. She sips from the glass and sighs.
The front door opens and in comes Michele's friend ANNIE. She's carrying a Yorkshire Terrier-Chow mix.
ANNIE
Hi, Michele.
MICHELE
What do we have here?
ANNIE
A special friend. Listen, I know you gave up the vet stuff when you married Jamie and bore his children, but I just had a feeling you would want to take a look at this guy.
Annie puts the dog down.
MICHELE
(eager)
What's the trouble?
ANNIE
We don't know. We've tried everything, but he just seems unhappy.
Michele scratches the cute little rascal behind the ear.
MICHELE
What's his name?
ANNIE
Jamie. I know. It's a gay name. I mean, aside from the fact that it's your husband's name.
Michele nods, gives the dog a treat. But it doesn't take it. She starts to feel his head -- something strange there. She presses in. Her face goes dark. The dog is dying.
MICHELE
Why don't you ... leave Jamie here for further tests ...
ANNIE
I knew I could count on you.
Annie, clueless to what has just transpired, leaves. Michele pets Jamie, who howls.
MICHELE
I know, boy. I know.
- - -
EXT. ALLEN HOUSEHOLD, BACK PORCH -- NIGHT
Michele smokes from an unfiltered cigarette. She blows a stream of smoke into the dark air. It is more satisfying than you will ever know.
Behind her, Jamie, her husband, walks out. We see just his silhouette and the reaction on Michele's face, which says, "I just don't care."
JAMIE
I see you're smoking again.
MICHELE
I see your eyes are still working.
Jamie stops. Something is apparently amiss.
JAMIE
Is there something you want to talk about?
MICHELE
No.
JAMIE
Does this have something to do with me taking our daughter to school?
MICHELE
No.
Jamie walks up behind Michele, smells her neck, tries to get all tender.
JAMIE
I'm here for you. I mean that.
MICHELE
Jamie died.
Jamie is genuinely alarmed.
JAMIE
Pardon?
MICHELE
Jamie died. The dog Jamie. He died.
Michele holds up a print of a digital photo that she took of the dog just before he passed. He looks so sad and sweet.
JAMIE
I'm really sorry. But you can't get involved with your patient. Especially when your patient is just a dog.
MICHELE
Just a dog. You know, sometimes you're a real ass--
Inside, the doorbell RINGS.
CUT TO:
EXT. ALLEN HOUSEHOLD, FRONT DOOR -- SAME
Outside the front door, we see a HANDSOME, DISTURBED MAN. Blood is smeared on his face and shirt. He's holding a 9mm by his side. He's breathing heavy.
MAN
(whispering, demented)
Gonna turn myself in. Gonna turn myself in. Just turn yourself in, Edgar. Just turn yourself in.
Michele answers the door. When she sees who's there, she faints dead away. Jamie is close enough to catch her. But he doesn't. Michele falls to the ground with a thud.
JAMIE
(to Man)
Can I help you?
MAN
Maybe so. Maybe so ...
FADE OUT
ROLL CREDITS

About the author:
Jamie Allen's 'The Horrible Humour & Other Stories' was published by So New Media. Visit his Web site at www.LandOfCalpernia.com.