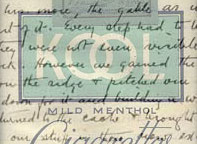 The Kool King
by Ginny Wray

Kory made my mother promise to keep their marriage a secret, and she agreed. They almost kept it a secret from me, but I caught them in the act, so to speak. On my way home from school one day, I met Mother and a man I'd never seen before walking out the door of our apartment with suitcases in their hands. "Hi, Mom," I said. "Where are you going?" "On our honeymoon," she said. "Who's the guy, Mom?" "He's your new stepfather," she said. "Have fun," I said. They sent me a hand-tinted postcard from Key West with a flamingo on somebody's lawn, a real flamingo.
A paper and pulp salesman born near some famous fjord in Norway, Kory lived in apartment 9B at 512 Park Avenue and rented us an apartment on the 3rd floor, where he came for dinner every night, watched a little Perry Mason, and kissed Mother goodbye at the front door. He didn't say much, but he could say it in three languages. He was an agnostic, which I thought was cool, and he liked young girls, but who didn't? An ice-skating coach in his youth, he kept a photo of himself hugging Sonja Henie, the Ice Queen from Oslo, on his bedroom wall.
Kory loved spicy foods, the hotter the better - probably because he grew up on Jetost and sardines - and acted as if wiping the sweat from his brow and burning his tongue were high points on the machismo scale. As if to balance out his taste for tamales, he smoked Kool Menthols which he left lying around, but I never bothered stealing them since they tasted like chewing gum or cheap cologne, and were only one step up, in my opinion, from the foil-wrapped chocolate cigarettes I used to smoke out the window as a kid. He wasn't a dedicated smoker. My first stepfather had smoked hand-rolled Cuban cigars (leaving me the boxes for my crayons and cherry flavored lip gloss), and let me cut the tips off with his tiny silver guillotine, which I did at first reluctantly, then with relish, crying "Off with their heads!"
Holding a Kool effetely between his thumb and forefinger, Kory would draw the smoke in rippling sheets up through his nostrils, swearing I'd be popular at school if I learned to blow one ring inside another. I didn't want to be popular at school; he was the one who was acting like a teenager, bending his thumb back against his wrist and curling his tongue into a tunnel. He called them parlor tricks, and I couldn't do any of them, but who wanted to? Marty Glynn, a boy I once went steady with for about two hours, a would-be Wild One who, like Brando, wore the collar of his black leather jacket turned up to his earlobes, had a much better trick: he'd take a deep drag of his Pall Mall, swallow a mouthful of his father's Tanqueray or Gilbert's, then magically exhale the smoke with a burp, an accomplishment I admired immensely at 14 and tried to copy with dire consequences, getting it backwards by swallowing the smoke and spitting up the gin.
Kory wore a bow tie that made him look shy or academic, but there was ice in his veins. For my 15th birthday, he took Mother and me to the Plaza for dinner. When we got in the cab, he said, "Take us to the Plaza."
The cabbie looked over his shoulder and said, "The Plaza's just around the corner, buddy."
"I didn't ask you where it was," Kory said. "I asked you to take us there." We drove around the corner in iced silence, and I imagined Mother on her way to Seventh Avenue, pricing gold.
Once I caught Kory reading my diary. I snatched it from his hands, but he'd already Xeroxed the juicy parts to show the guys at work, although the juice may have been so subtle that only I tasted it. I took the loose change from his coat pockets and spiked his V-8 with Tabasco for revenge. But he never hurt me. There had always been some guy in Mother's life; she kept men around like bottles of wine with the cork out, so I didn't even mind it when he took me up to the ninth floor, lay down with me on his Queen sized bed, and asked me in a sudden falsetto to tell him what I did with Bruce Ledbetter on the steps of the service staircase while he stuck his tongue in my ear -- Kory's tongue, I mean, not Bruce's. Bruce never showed any interest in my ear. I think Kory must have read somewhere that wetness of the ear inspires confession in women. Bruce and I had tried making love once, but were cold-showered by ignorance, leaving me with nothing to confess. This sign of Kory's affection, if that's what it was, reminded me more of a high school physical than an erotic game; I would have told my mother, but she'd never have believed me since the evidence would have dried up before I got back down to 3C.
As it turned out, Mother got the proof she needed. By the time I turned 15, I was a full three inches taller than Kory, didn't care anymore if he liked me or not and hadn't been up to 9B in months. One night at dinner, I casually asked him how he'd met Sonja Henie. Mother said, "How do you know about Sonja Henie?"
"I saw her picture," I said.
"But the photo's in his apartment," she said, and we both wised up quick. Mother pulled him into her bedroom, and by the time he came out, he was ready to pack his bags. He must have been tired of keeping secrets and living with Eloise instead of Lolita. He quit his job and moved to Mexico City, where there were plenty of girls for sale, my mother said. Six months later, he sent us a snapshot of himself, all dressed up, with his arm around a milk-chocolate girl. She was wearing what looked like a Communion dress, waving her wedding ring in ecstasy at the camera, and blowing smoke rings like a pro.

About the author:
Ginny Wray's work has appeared (or is forthcoming) in 3ammagazine, Absinthe, BigBridge, Brevity, Carve Magazine, Eclectica, Eyeshot, Hope Magazine, Linnaean Street, nycBigCityLit, Pindeldyboz, PoetryBay, PoetryMagazine, and SamsaraQuarterly. She has a B.A. in Literature, and is on the editorial board of Fictionline.