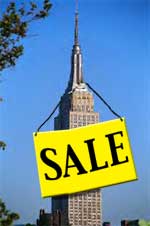 Ways I Can Save Tourists Money at the Empire State Building
by Dan Kennedy

FORGET THE ELEVATOR
Why pay eleven dollars for a ticket to ride an elevator to the top of the Empire State Building? Basically, the eleven bucks gets you a trip up in a very standard elevator car. No views. No supersonic speed. No computerized voices. Frankly, it's nothing you haven't seen before. Second of all, there are stairs that offer an 'off the beaten path' experience, and I can carry tourists (Maximum weight 85 pounds, unless you are willing to help out) most of the way to the observation deck for a fraction of what it costs to follow the conventional path (yawn) with everybody else.
I CAN SEE A BARGAIN FROM WAY UP HERE
Another tip for out of towners who prefer not to be scammed and fleeced like disoriented teen runaways in need of a local phone or voicemail number and hot meal: BUY THE NEW YORK SOUVENIERS AS FAR AWAY FROM THE BUILDING AS POSSIBLE AND SAVE! We'll take a trip way downtown to a spot that remains one of New York's best kept secrets when it comes to slightly damaged or irregular gifts at more than slightly discounted prices (See below).
Tee Shirt:
Choose from "I lov New York" or "No Pear"……….$4.99 ea
Miniature Statues:
Choose from bright red Statue of Liberty, Empire State Building (Bottom and middle portion only. Missing top nine stories), or unpainted "Yellow" Taxi Cab………………………….$1.80 ea
Riddle Hat:
Reads "Q: Why do New Yorkers walk so fast? A: Why do New Yorkers walk so fast?"…….. $1.99
ALL I HEAR IS BIG SAVINGS
You've got a choice. You can pony up seven bucks a head for the family to have an "Audio Tour" cassette tape and headset, or you can pitch in a fraction of that fee and enjoy the official audio tour cassette (obtained from a former Empire State Building employee) that I will be playing on a large portable stereo loud enough for our entire group to hear without having to put on headsets and wander around the observation deck completely isolated from friends and loved ones in the group. As if the savings isn't reason enough, might I remind you that it's safer than having headphones on when you're walking around outside the 102nd story of a building?
ONE THOUSAND WORDS ARE WORTH ONE FAMOUS PHOTO
While other tourists are paying admission to see the photos of famous people who have visited the Empire State Building, you'll have the chance to pay significantly less to see me reenact the photos of your favorite celebrities high atop the Gotham skyline. "Grrrroooowwwwwlllll, I love New York!" You'll wonder if it's actually Gene Simmons, the famous frightening frontman of the demonic rock band KISS that has posed with his leg propped up on the building's ledge as I fly into character faster than a bat out of hell. You'll know it's twice the entertainment of photos at half the price as I morph into a dramatic recreation of President Bill Clinton's visit to the tall tower, "I did not have sex with that woman, but I HAVE fallen in love with the great skyline view from up here on the observation deck!"

About the author:
Dan Kennedy is a very good writer. We like him and so should you. But not in THAT way.