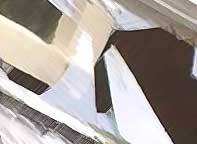 Bad Women

I am hanging ropes for a tree swing when young Roland Fiske trips through a rotten plank in the bridge over the carp pond. I built the bridge last summer. I built the carp pond the summer before that. I use my ice water to wash the blood and splinters out from under the flaps of the wound. The boy gasps. I remove my old Western Michigan University T-shirt to use as a bandage. "You're a trooper," I say, "like your old man." The T-shirt drops like a ring around the boy's ankle. I pull it back up and tell him to apply pressure.
I leave the boy crying on the teak bench and rush inside. "You want skin cancer?" says my wife. I look down at my stomach. It is my stomach, and it is white. I touch it and it feels cold. I tell my wife what happened. My wife gives up the phone to say, "See? See? What have I been telling you?" I call Mr. Fiske and a cheery female voice says, "If you cannot leave an interesting message, at least make it short!"
Telling the long story, I rub my stomach to friction heat into my gut. Roland mowed the lawn, I paid him, and he drank lemonade and left the glass on the teak bench and walked on the bridge over the carp pond. He did nothing wrong. Bad women have been sabotaging my works, replacing sturdy bridge planks with rotten ones. My wife and I are cooped up with home projects and sabotage. My wife and I have become like children, too afraid to try what we think we won't like. I want to buy her a bird or a plane ticket or an item of lingerie, but I am afraid she will think I'm no longer content with the woman she has become.
I hang up.
I put on a plain cream golf shirt. I drive Roland Fiske home. On the way back, I stop to buy silver earrings from a boutique in town. The boutique is called "The Treasure Chest." I want to flirt with the young girl behind the counter, but I don't know why I should want to, and so I look hard at her as if saving her for later.
I come home and hear crunching noises under my gardening shoes as I walk to my wife and hand her the ribbony box. She says I'd better've gotten a raise in the hour I've been gone. I'd better've gotten a raise because the bad women smashed all the windows. And there is all this broken glass in the carpet.
I look at the glass and understand that the bad women are no longer interested in what I will make of my time. I know this. They have gone looking for someone new.
The phone rings, it is Mr. Fiske, and I am spying out broken windows for signs: wiggling ropes, rustling branches, glinting blades in the trees.

About the author:
David Barringer's second story collection, The Human Case, was recently published. His work appears in many journals. He lives in Michigan. Website: www.davidbarringer.com. Email: curious@davidbarringer.com