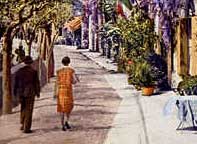 The Self-Hating Tourists

I.
It was a beautiful day, the kind of day you would read about in a F. Scott Fitzgerald novel. The sun was bright, the sky clear, the water blue, the mountains majestic and the air temperate. It was nearing the end of April and there would not be many more of these days. It was already 'in season,' meaning the hydrofoils were operating on their summer schedules bringing thousands of visitors a day from the ports of Naples, Sorrento and Positano for the day long pilgrimage to the island of Capri. They would begin to arrive early in the morning at the Grand Marina where they would be shepherded into the funicular for the ride up the cliff to the Town Center of Capri -- where they would debark upon the eagerly awaiting shopkeepers and café owners. The local proprietors looked to the start of the in-season with a rational ambivalence. They mourned the loss of the winter peace but looked forward to what would hopefully be a prosperous season.
For Richard and Nikki, there was no such ambivalence. They detested the in-season. More specifically, they detested the boatloads of tourists that the in-season inevitably would bring. The "daytrippers" they called them. By the time Richard and Nikki would wake in the morning, thousands of pale and overweight Americans, Brits and Germans, in an ironic and unlikely alliance, would have declared war on Capri, firmly establishing a beachhead at the Town Center from where they would dispatch foot soldiers armed with fanny packs and straw hats to hunt down fine jewelry, expensive pottery and assorted pastries.
It was this time of year every year (well, this year and last year anyway) that Richard and Nikki would plan their escape. They had been caught off guard last spring on their first trip to Capri. They had come in early April last year seeking a tranquil environment that would provide Richard with the motivation to get seriously working on his screenplay while allowing for a quiet solitude for Nikki so she could re-adjust her Zen after finishing a two week shoot for a small part in an independent film that would never get beyond the editing stage. They had planned to stay for two months, but cut their trip short the first week of May when it became apparent that the hordes of daytrippers were not conducive to either playwriting or Zen adjusting.
Last year, they had been fortunate enough to escape unscathed. The concierge at their hotel, the Grand Hotel Quisisana, had been of critical help by arranging for a helicopter to airlift them from the hotel to the Naples Airport where a limousine awaited to transport them safely to Rome.
This year Richard and Nikki arrived the first week of March intending to stay through April. Richard felt reborn and wanted a fresh start on his screenplay. Nikki needed the break after a mostly unsuccessful round of auditions for various modeling jobs and a couple of commercials. She was still hopeful of landing a print job for a local spa.
More importantly, they needed the vacation in order to perpetuate their relationship. They had been together almost three years now ever since they met in a beginning acting class at The New School in Manhattan when Nikki was 25 and Richard 23. Richard did not really want to be an actor but he thought it would help his writing if he understood the processes and training that an actor went through. They were both fortunate enough to be endowed with trust funds (hers larger than his) from which they were free to draw upon in order to support their larger ambitions. This shared "curse of wealth" helped them forge a bond on which their relationship rested. Theirs was not a relationship based on love, at least not in the dramatic sense of that word as they thought they understood it from their respective artistic pursuits. Rather, theirs was a relationship based on an unspoken mutual agreement to stroke each other's egos.
Few outsiders could appreciate their troubles. They were struggling artists shackled with the burden of inherited wealth and the accompanying social status dictated by such wealth. Richard believed that this ironic predicament gave him a unique perspective, which he yearned to tap and share with the world. That's why it was so important for them to get away so they could pursue and reflect on their crafts with minimal outside distractions. They had purposely limited themselves to one travel bag each so they could live a rather Spartan life on Capri. This also allowed them the freedom to shop quite liberally while in Capri without the burden of accumulating too much luggage. Any big items, such as pottery and ceramics, could be shipped home to the states.
This year, instead of staying at the Grand Hotel Quisisana, which was a fabulous hotel but dangerously close to the center of town and its incumbent risks, they opted for the Hotel Punta Tragara. The Hotel Punta Tragara, situated at the very end of Via Tragara, was Capri's farthest hotel from the center of town and was located well past the last of the shops and cafes. It was not, however, immune to attack from the daytrippers. Most of the incoming were benign, however. They would take the walk to the belvedere at the end of via Tragara to look out at the Faraglioni and snap a few pictures before heading right back to town.
The Hotel Punta Tragara was not the nicest hotel on the island, but, all in all, Nikki and Richard had to admit that it had been a pleasant place to stay. The hotel was clean and quiet and the service had been commendable. However, Richard had been unable to develop a rapport with any of the hotel staff as he had with the concierge at the Quisisana. Consequently, he felt a void that was hindering his creative abilities and he had not accomplished as much work as he had hoped. And Nikki's anxiety level had been increasing proportionately with the number of daytrippers visiting the island.
Now they were nearing the end of their trip. The daily stream of daytrippers had increased dramatically in the last couple of weeks. Richard and Nikki continued their early evening ritual of heading to the Center Square where they would begin the night seated outside at the Gran Caffe with a carafe of local white wine served with small bowls of olives, peanuts and potato chips. The only difference is now they would wait until at least eight o'clock or, as Richard put it "the last hydrofoil has departed with the last of the daytrippers."
On the way to the Center Square, Richard insisted they stop at the Hotel Quisisana so that they could inform their good friend the concierge of the previous night's scores from the NBA playoffs. The concierge graciously never let on that he could watch CNN WorldSports as easily as Richard could.
- - -
II.
The time is April. The place is the Gran Caffe in the Town Square on the Isle of Capri. Richard and Nikki are seated at an outside table with each of them facing the center of the square. Across the square from them is the Caffé Casso that sits adjacent to the clock tower. Nikki is wearing a black spaghetti strap top with a white skirt and an off-white sweater draped over her shoulders. Her bleached blonde hair is held back by her designer sunglasses. Nikki is thin with a tanned face that is full of contradictions due in part to the nose job she underwent last year. Her simple face, at odds with her severe cheekbones, gives her a chameleon like quality. Her dark brown ironical eyes allow her to barely cross that magical threshold where she is interesting enough to photograph.
Richard is seated to the right of Nikki. He is of medium height and build. He is dressed in a casual chic outfit of blue cotton shorts, Teva sandals and a beige linen shirt. Richard has dark blonde hair and an uninspiring face with thin-pursed lips. His blue-green eyes betray the image he is trying to project, which partially explains his habit of wearing sunglasses until the last strand of daylight has disappeared. Nonetheless, there is an air about Richard that prevents both women and men from walking by without taking notice.

On their table are a liter carafe of local white wine and three small white bowls of olives, peanuts and potato chips, respectively. Nikki is smoking a thin Italian cigarette from which she inhales about every fourth puff. Nikki and Richard are each holding a glass of freshly poured wine as Richard prepares to make a toast, which has become part of their nightly ritual.
RICHARD: Thank God the last hydrofoil has departed with the last of the daytrippers. (They tap their wineglasses together.)
NIKKI: Here, here.
RICHARD: What a wonderful evening it is.

NIKKI: Oh, I know. Capri evenings are so pleasant this time of year. The island really comes alive when the crowds depart.
RICHARD: Yes, it does. The daytrippers' irony is that you really need to stay overnight to gain any sort of appreciation of Capri.
NIKKI: Oh, for sure. Capri is positively delightful at night. I don't know why these daytrippers bother.
RICHARD: Like that restaurant we went to last night - Ristorante da Gemma. What a fabulous little place and it was mostly an all local clientele. The ironic thing is that it's located right off the square here -right under the daytrippers' noses - and they'll never even know it exists; it being tucked away in a little alley behind the clock there.
NIKKI: Even if they did find it, they wouldn't like it. It's too Italian. They'd rather find a restaurant that caters to Americans.
RICHARD: You're so right. That's the daytrippers' irony. They come here for the day with their guidebooks and cameras and a checklist of things to do. They think they're really in Italy when they get ripped off taking that ninety second tour of the Blue Grotto with their guide bellowing out O Solo Mia to them.
NIKKI: You're so right. You really can't relax unless you stay for a while and get accustomed to the pace so you can feel the rhythm of the island.
RICHARD: You're so right. Then everything becomes better - the beauty of the people, the sights and sounds of the town, even the taste of the local wine.
NIKKI: You're so right. This wine is so good when you can just sit here and relax and enjoy this time of day without having to constantly check your watch and hydrofoil schedule.
RICHARD: And just think of all the people we've had the opportunity to meet. And not just meet, but really get to know. Look at how good friends we've become with the concierge at Quisisana.
NIKKI: That's so true. You really need to stay for a couple of months to get a real feel for Capri. Only then can you really relax and take in the little nuances of the island. Take these olives for example. They really are quite delightful.
RICHARD: Yes, they are. And I typically don't care for olives.
NIKKI: You say that every time, yet you always eat them.
RICHARD: Hmm, yes. It's rather ironic, isn't it?

NIKKI: Oh, Richard. That's what I love about you.
RICHARD: What's that?
NIKKI: You're so funny.
RICHARD: Am I?
NIKKI: Yes, you are.
RICHARD: Well, I don't try to be. What I do try to do is look at things, well, differently. Not from the typical point of view. It helps me write. For example, take that clock tower. What do you see?
NIKKI: I see a gorgeous old clock in the Town Center of an impossibly romantic island off the coast of Amalfi in Italy.
RICHARD: Anything else?
NIKKI: Yes. It's showing the time as ten minutes past eight which means the eight o'clock bells have already rung and more importantly, the last hydrofoil of daytrippers has departed. (Looking at him) And two young people in love are free to come out and enjoy the evening.
RICHARD: That's pretty good. But did you notice that the face of the clock, which appears to be set in one rather large square piece of the fine local pottery, is actually comprised of 144 individual tiles? And once you take notice of that, how could that be significant? Well, you could have a crime take place--a theft, or perhaps, a murder--and there's only one witness to the crime. And his testimony is critical to placing the defendant at the scene at the right time. And during his cross-examination, when he's being brow beaten by the big shot defense attorney trying to find cracks in his testimony and who questions him as to how he can be so sure of the precise time, our star witness says 'because the minute hand was right in the middle of the crack between the second and third tile from the top on the right.' And the big shot attorney is visibly flustered with his mouth agape and more important than the testimony itself is the psychological advantage the witness has won and the effect that it will have on the jury. It would be like something right out of a Fellini movie.
NIKKI: Oh, Richard. You're so clever. How do you think of these things? Will you cast me as the star witness?
RICHARD: That all depends.
NIKKI: On what?
RICHARD: How well you perform on the proverbial casting couch. After all, I have to retain my objectivity in order to avoid gaining a reputation for employing nepotism. But don't worry. You'll be given your fair chance on the couch just like everyone else.
NIKKI: You really are so funny. But, really, you would cast me, wouldn't you?

RICHARD (half-lying): Absolutely, my darling. I can't think of anyone better for the part. You're both beautiful and perceptive.
NIKKI: Hey, look. Isn't that our waiter from this afternoon?
RICHARD: Where?
NIKKI: In the window above Caffe Caso. Right next to the clock.
RICHARD: Why, Yes. I believe it is. What is he doing up there?
NIKKI: I don't know, but he looks so sinister. Hey, maybe he could be the murderer. He's up above there overlooking the town square, casing the place out. And at just the right moment, he makes a subtle gesture. A slight nod of the head or an itch of the nose or he tugs at his ear. And then, when he thinks no one is looking, he gives the signal for one of his goons down here to carry out the murder. Then he scampers back downstairs to Caffe Caso so that he has his alibi. But our star witness is seated over here, right here in this chair, the whole time. And she's able to pinpoint the exact time she saw him give the signal which matches up with the testimony from the patron in Caffe Caso who testifies that our suspect excused himself to go to the bathroom at the time the murder took place.
RICHARD (chuckling): That's not bad. But it's a little obvious. We need some sort of irony. That's what distinguishes good writing.
NIKKI: Look, he just tugged his ear. Omigod! Did you see that? Now, that's irony.
RICHARD: Did he really?
NIKKI: Yes, I swear to God.
RICHARD: That is ironical. Now, that's a great screenplay. A couple vacationing in Italy, perhaps on their honeymoon, discussing ideas for a screenplay - and the entire episode comes to life.
NIKKI: (obviously worried) Look; now he's gone. My God, that's so freaky. Who do you suppose he was signaling?

RICHARD: And they become integral players in their own screenplay come to life.
NIKKI: Do you see anything suspicious down here? Maybe we should go.
RICHARD: Which really serves as a metaphor for everyday real life. After all, look at all of these daytrippers. People who live their life in this self-created make believe screenplay world. They're just following the script that's written for them. They read a guidebook that tells them to take the hydrofoil to Capri for the day so they do it.
NIKKI (in hushed tones): Look at that guy over there. What's he doing? We better get outta here.
RICHARD: It's perfect irony. As they plot a screenplay, it unfolds before their eyes and sucks them in. It's absolutely Fellinesque.
NIKKI: You've never even seen a Fellini movie, YOU FUCKING IDIOT! Forget your stupid screenplay for a minute and pay attention to what's going on here. Come on, let's go.
RICHARD: Jesus Christ, Nikki, calm down. There's nothing going on. Look around. Look. See. Everything's perfectly normal. There's nothing at all going on. The waiter probably just had to scratch his ear.
NIKKI (looking around): Do you really think so?
RICHARD: Of course. Look, if he scratched his ass, would you have given it a second thought? No, but since we happened to be talking about scratching our ears, you jumped to conclusions. The guy just had an itch.
NIKKI: I guess...maybe.
RICHARD: Come on. Look at this place. They've had like one murder in the last hundred years.
NIKKI: Yeah, you're probably right.
RICHARD: Of course I'm right.

NIKKI: I'm sorry for yelling at you.
RICHARD: That's okay. You just let your imagination run away. But that's good. You were being very aware of our surrounding environment. That's the kind of thing that will make you more creative and separate you from the pack. Remember that so you can channel it into your acting. That's a rare talent.
NIKKI: Yes. You're right. I will remember this.
RICHARD: And, as an added bonus, you've just given me a great idea for my next screenplay.
NIKKI: Oh, I'm so glad. Richard, you really are very talented. What excellent ideas for a screenplay you have.
RICHARD: Thank you.
NIKKI: I love you, Richard.
RICHARD: And I love you, Nikki.

About the author:
David Apostolico is the author of the all dialogue novella Fried Calamari (published under the pseudonym D.M. Roman).