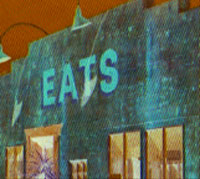 Tortilla Flats

Worked for quarters
in a Mexican joint
serving stuff I loved
to say out loud:
I'd holler with a big red smile
to Wally Joe:
"two cheese enchiladas,"
letting the "ladas"
dance behind
my white-girl teeth.
Or I'd skip up to the bar,
& look down at Duke's
cowboy boots
standing in sawdust
(a sight that made me think
of desperado sex)
& I'd say:
"Gimme a Dos Equis"
& the "quis" would make
my jaws squeeze
into a bigger grin.
I just lived to say
"a pitcher of Margharitas,"
chewing on the " itas."
I loved my work.
There was a man who
always ordered Chicken Molé
(that's not a mole,
that's a two-step "mole-lay")
off the menu, & 100 times
I said to him, "We got no Mole-lay
but we got enchilaaaddaaas."
The juke box played
that country shit;
like we weren't sitting
next to a vacant lot
on Sixth Avenue
in New York City
We were happy little buckeroos
At Tortilla Flats.
Kenny the cook
tried to jump me
in the booze closet
of course he was high
on horse, & didn't know
he had his hand on falsies.
We caught him french-kissing
hisself in the ladies room mirror
a few nights later.
He was known as Lover Boy
all that summer.
He often nodded out
over the frying taco shells;
the grease shining in blisters
on his drooping eyelids.
I'd yell out, "Kenny, make two
more enchilaaaddaaas."
Wally Joe had to fire his ass
when Kenny rolled my order slip
around some chicken
& covered it with sauce. Duke
glared when I laughed & bellowed:
"Who's ordered the paper enchilaaaaddddaaaa?"
Today I clean the house,
chase the kids. Watch Oprah
& the white trash shows,
wondering how I got so fat
with boobs as big as gourds.
There's a whole lotta
enchiladas under the bridge,
& comes a day
when the past pops up
like a rerun of Gunsmoke;
better count your blessings.
Salsa memories bleed hot
in the back of your throat,
so cherish your Chicken Molés.

About the author:
Beverly Jackson lives in Blue Lake, Ca. among the redwoods and alongside the Mad River. (Her reward for a lifetime of survival in New York City and Los Angeles.) Her poetry and non-fiction has appeared in many online and printed literary journals and her short story "In The Lion Zone" appeared in the March 2000 issue of Zoetrope's ALL-STORY EXTRA. She is currently working on a novel titled "Scratching Toward The Light." The first chapter, "Dora and Mack" was accepted as a short story to be published soon in BLUE MURDER.