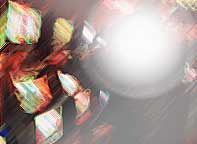 Stan's Last Gamble

Stan experimented with different occupations; none of them stuck, they slid off like silk scarves on a granite surface. He had a degree in marketing, marketing what, that was his problem. He sold services: termite control, landscaping design, and auto detailing, but they achieved only mild success, weaker than a kindergarten play.
Stan had walked down the rice-filled aisle of matrimony three times, none a successful journey. On first acquaintance, Stan was amusing and a first rate extrovert, whose jokes, cracks, and stories fell entertainingly off his tongue, like hulls from an eating parrot. Only on longer exposure did his jokes sting like needles and his once humorous portrayal of strangers began to resemble his wives and friends. Stan thought he kept his dark side buried, refusing to acknowledge the ugliness that rose to the surface, like rotten corpses in a New Orleans's flood.
His uninvited fifties arrived, and Stan's blonde hair became a kaleidoscope of changing shades, thanks to infrequent dye jobs. His meanness expanded like his waist, requiring longer leather, while his circle of friends shrank to a half-moon of cronies.
People speculated about Stan and had difficulty keeping track of his job changes. Most people knew more about Stan's inner workings, his temper tantrums, and his thoughtless cruelties than they wanted to know. It proved difficult, avoiding those acidic puddles of facts spewed from the pouting lips of three ex-wives. The divorce stories were spread thick with rancor; Stan's history was like an expensive wedding cake, hanging with chunks and swirls of extra-rich frosting, to vile to consume.
Therefore, when trouble came cooking, like a long neglected pot, Stan was incapable of stirring. He was ill-equipped for the contentious slicing and dicing of life. The foam of turmoil dripped from his sides, the steam burned, and Stan found himself stewed. The terrible soup started with his gambling. Stan thought of himself as a card-playing expert; he could count to twenty-one, but remembering all fifty-two previously played cards was beyond his ability. He preferred to place sizable bets, especially if others were watching, and he soon found himself the owner of an empty wallet. Unemployed, he waited for inspiration to strike. It was a slow moving storm and the lightening never came; leaving Stan stranded in a high-pressure front.
What could he do to make a living and be a success? Stan thought and thought in-between ballgames, and trips to the local bar. Sometimes he would sit in his SUV and wait for direction, but the motor was turned off and the steering twisted tightly, snapping back to nowhere. With payments due, and an angry landlord, Stan headed for Tunica, Mississippi to win his biggest prize.
Tunica is a fairyland of casinos with golden chandeliers, dinging slot machines, buffets, and thick optimism, surrounded by cotton fields whose rows run straight and deep from centuries of slavery. Now a new master rules there, money, or the hope of it. The retired, handicapped, wealthy, bored, and poor all gather, like the finest conquistadors, to mix and mingle in their search for El Dorado.
Stan was looking fine, finer in his own mirror, and he headed straight into his new destiny pushing through the crowd like a bowling ball downing pins. He needed to win early, he was light on ready cash, and he began at a $5.00 table playing twenty-one. Lady Luck, and that is all it was, propelled Stan into the hundreds of dollars and he celebrated by swallowing several free beers. Stan sat on an island of felt surrounded by other gamblers wearing riveted stares. The trance was strong, the hope immense, as gamesters pushed, "maximum-bet" in practiced rapidity.
Stan moved to a triple-deck video poker machine. Dollar machines promising favorable odds while costing triple the price. He inserted his fortune into the house-manipulated game, pushed, "maximum bet," and three rows of five cards magically lay in electronic splendor over a green screen. Stan studied his cards, deep in the heavy buzz of numerous free beers, and decided to hold only the diamond face cards. He took another long drink and pushed the button called, "deal."
A, "Call an Attendant," sign flashed before Stan, and he looked up wondering what was wrong with his machine. Just then, a waitress passed by cruising for tips. She gushed, "Congratulations, a Royal Flush," while delivering her biggest smile. The showcased teeth ignored, Stan never heard her false delight or noticed the low-cut purple dress cinched tight, pushing up goose-fleshed breasts; his eyes stared only at the machine. Stunned, dazed, he looked up at the yellow/white flash of the machine calling for help, and noticed a progressive pot in blazing numerals running across the top of the machine: "$32,546.23."
The attendants, dressed in purple and black, like royal flushes themselves, pushed through the envious crowd smothering lucky Stan. The workers began their winning procedures: inserting keys, filling out cards, blasting updates into walky-talkies; Stan sat and watched the ritual, as if he were viewing magic fairies dancing the pagan ceremony of greed.
Finally, a check presentation, a photograph by the machine, Stan straightened up for that, after all it was a permanent record and would grace the casino's walls for many years; serving as an inspiration to other aspiring gamblers. A slight paranoia set in as he walked to a blues bar inside the many walls of the resort. He was flush with money and it required careful handling. Responsibility, a virtue Stan seldom practiced, weakly rang a warning bell, "watch out, be careful."
Stan was a nasty drunk. Winning all that cash had somehow unleashed the last dam of restraint on a puny self-control. Stan was not intimate with Lady Luck or he would have known she possessed the fleeting attention of a small child, dithering off on a moment's whim. Free from imminent poverty; Stan celebrated by swallowing beer after beer. The liquid flushed open the gates of Stan's past hurts, imagined slights, and harsh criticisms; releasing them to pollute others sitting in his immediate sphere. This was bad luck for Stan, because close by this evening were men who knew how to take care of nasty mouths. Stan took offense at one woman's stare and he began yelling insults at her over the counter.
"What you looking at?" he demanded, "never seen a big winner like me before?"
The woman cringed while her boyfriend flexed. The band was not immune either as one guitar player laid down his instrument when Stan shouted for the fifth time, "Play something country!"
Stan took aim at a group of women, never guessing their relationship with the bikers at the back table. First hitting on them, then fueled by rejection, shouting hurtful remarks; Stan was a bottom-feeder floundering in shark-infested waters. Men stood up in the dark corner and two headed for Stan, but others called them back and said, "Later." Stan's future was sealed as easily as licking an envelope before you drop it into the black mail slot. At last, the bartender took charge and Stan was pushed towards the door and told to, "Sleep it off, bigmouth."
All Stan's acquaintances heard about him was that he had gotten into some sort of trouble at a casino bar, created one of his usual scenes, and checked out. A few local boys knew where Stan checked in next, but flush with new cash, they were as closed-mouthed as bass in the Mississippi River. They did have several relatives working at the hotel however and were not surprised that Stan's one discount suitcase, his clothing, and his SUV no longer stood there. Back home, the ex-wives tried their hand at filing paperwork for Stan's remaining property, but the Tunica police reported that Stan was only missing.
No one at the blues bar seemed to remember any facts about Stan's last night; many held no recollection of him whatsoever. After the check cleared, the casino proudly hung Stan's picture on the gallery wall, with all the other winners. Everything continued much as it had before, in those rich dark rows of cotton, newly fertilized, in old Mississippi.

About the author:
Angela Conrad lives in SW Missouri with her husband, Jerry. She has written two novels and worked as a procedure editor, but now dedicates herself to writing fiction fulltime. She has written a diverse collection of over thirty short stories in 2002, and this year has published 12 stories that have appeared online in The Circle, Ascent, American Feed, The Pink Chameleon, Pindeldyboz, EWG Presents, and in the print vehicles The Enigma, The Storyteller, and Earthbase 3000. She loves reading and will write about you, if you don't watch out.