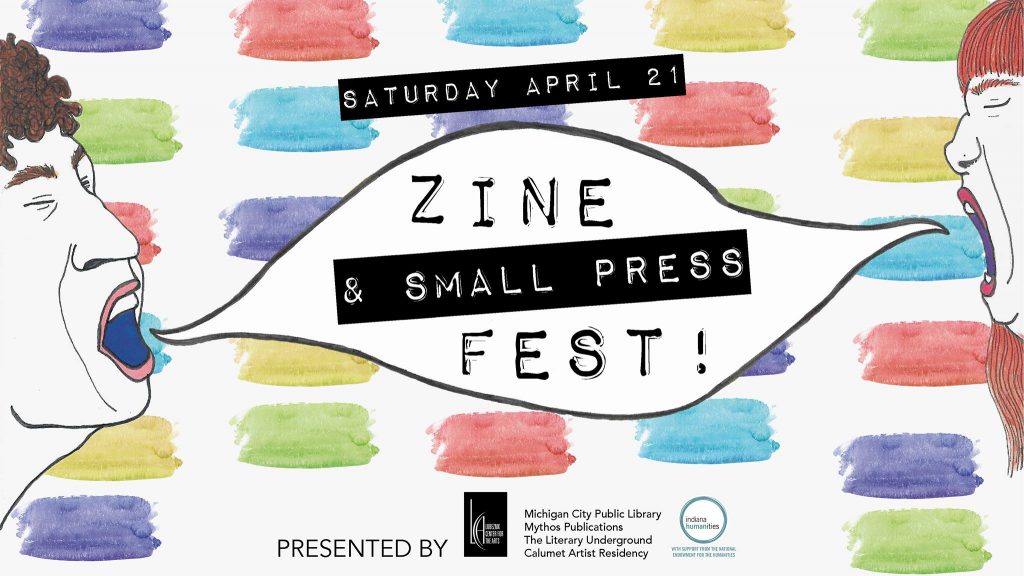 Zine & Small Press Festival presented by Lubeznik Center for the Arts on April 21
Lubeznik Center for the Arts teams up with regional organizations Michigan City Public Library, Mythos Publications, The Literary Underground and Calumet Artist Residency to bring a Zine & Small Press Fest to Michigan City.
On April 21, 2018, Lubeznik Center for the Arts welcomes independent authors, publishers, artists and activists to present and revel in a wide range of printed artistic expressions. Public offerings include a hands-on workshop, keynote address, panel discussion, vendor tables, original zine art exhibit, poetry readings, storytelling and music.
EVENT TIMELINE
Michigan City Public Library at 100 E 4th St.
10:00 AM – NOON: Interactive family zine-making workshop. (All Ages, Free to Public, All materials provided)
Lubeznik Center for the Arts (LCA) at 101 W. 2nd St.
12:30: Keynote presentation by Dr. Fred Wright
1:00 – 5:00 PM: Zinesters, small presses and indie authors sell their work including comic books, graphic novels, children's fiction, young adult fiction and poetry
2:00 – 3:00 PM: Panel discussion with artists, activists and academics
3:00 – 5:00 PM: Poetry readings
(All Ages, Free to Public)
Artspace Uptown Artist Lofts at 717 Franklin St.
6:00 – 9:30 PM: Storytellers, poets & musicians perform. Hosted by The Literary Underground. (Ages 16+, Free to Public, Cash Bar 21+)
---
Lubeznik Education Director, Hannah Hammond-Hagman, began work on the festival last August, connecting local and regional folks already engaged in the resurgent zine scene for the ultimate Zine Fest brain trust. "I am grateful to be working with so many wonderful partners to bring this event to Lubeznik Center for the Arts and Michigan City. The Zine and Small Press Fest celebrates the amazing works of zine artists and indie authors from the region and beyond and highlights these literary works of contemporary documentation, community activism, and storytelling. It's simply time to acknowledge this important and relevant work, and we look forward to a great crowd on April 21st for all of the Fest events."

The day's planned activities and exhibits will begin at the Michigan City Public Library, 100 E 4th Street, at 10 a.m. with an interactive, family, zine-making workshop. This event is suitable for all ages and runs until 12 p.m.
Lubeznik, located at 101 W. Second Street, will be a flurry of activity beginning at 12:30 p.m. with a keynote address presented by Dr. Fred Wright. Fred has written extensively on zines and popular culture, including "From Zines to Ezines: Electronics Publishing and the Literary Underground" exploring how online publishing affected the subculture of zines. He published the literary zine entitled drinkdrankdrunk and wrote reviews for Zine World: A Reader's Guide to the Underground Press. He has taught at Kent State University, Muskingum University, Cuyahoga County Community College, and Ursuline College. Fred has presented at conferences and published articles in journals such as The Journal of Popular Culture. His last zine was a serialized novel about a rock band. He publishes his novels under the pen name of Wred Fright. His latest is Frequently Asked Questions About Being Dead.
Artists, activists and academics host a panel discussion at 2:00 p.m. The resurgence of zine culture and why it's so important, specifically relating to current happenings in the Northwest Indiana region, will be the focus. Alec Villarreal of Mythos Zine writes: "I'm convinced part of the reason there's been an influx of interest in zine culture within Northwest Indiana is because a handful of local creatives have a difficult time identifying with the ritzy 'HGTV' styled art markets. Zines are oftentimes grungy and down-to-earth in their appearance or content, and this is precisely what makes the artistic nobodies of our region, like myself, say, 'I want to be a part of that'. The Zine & Small Press Fest is just another tangible expression of a network of artists that's being formed in NWI, and I'm excited to be part of it."
A curated lineup of poets will read their works from 3:00 – 5:00 PM. All the while, in the main gallery from 1 to 5 p.m., 40 zinesters, small publishers, and independent authors will offer up their wares for sale or giveaway, everything from tiny handmade books and zines to professionally bound soft and hard-covered books. These independent publishers represent unique and diverse perspectives in their creative projects. There will be something for all ages, all walks of life.
Throughout the hours of activity at Lubeznik, there will be access to Material Culture, a curated exhibit to accompany the Zine and Small Press Fest. The exhibit will remain on display through May 19, 2018 in the NIPSCO Education Studio. Material Culture explores the varied media and methods of zines and self-published materials from comic books and graphic novels to community and environmental activist projects and poetry and photography zines. A wide variety of zines and self-published materials from those participating in our Zine and Small Press Fest on April 21st, as well as student works from Lubeznik's after school arts programs and works from students of Indiana University Northwest and Purdue University Northwest. Also on display will be original artworks and prints from regional zine artists affiliated with Mythos Publications of Hobart, Indiana, a collection of zines and published materials from Calumet Residency of Gary, Indiana, and original comic books from the Chicago's Hairy Who art movement. 
The festival celebrations continue into the evening at the Artspace Uptown Artist Lofts, 717 Franklin Street. Doors will open at 6 p.m. Kicking things off at 6:30 p.m. will be a storytelling hour hosted by radio host, creative consultant, and author Gregg Fraley. Poetry readings and performances will follow, featuring a number of accomplished poets including William Taylor Jr. (San Francisco), Iris Berry (Los Angeles) and Michael Grover (Florida). The event comes to a close with a musical performance by singer/songwriter A.S. Coomer. This event is intended for mature audiences. There will be light snacks and a 21+ cash bar.
All festival events are free of admission charges. For more information, please visit the LCA facebook page at https://www.facebook.com/LubeznikCenterfortheArts/.
This program has been made possible through a grant from Indiana Humanities in cooperation with the National Endowment for the Humanities.
###
LINEUP for @ LCA 3-5pm
Kayla Greenwell, Lily Rex, Kei Constantinov, Bill Yarrow, Janine Harrison, Carol Estes, Joseph Pete, Tina Porter, Briana Olivares, Miranda Morley, Matthew Barron, Joe Gianotti, Wendy Lee Spacek, A.S. Coomer and Fred Wright.
LINEUP for @ Artspace 6-9:30pm
@ 6:30 Storytelling hour organized by Gregg Fraley with Jack Zimmerman, Mary Dean Cason, Joanna Trotter, Valerie Mrak, and Holly Schroeder
@ 7:30 Featured Poets: Ezhno Martin, Jeremiah Walton, Dan Denton, Krista Cox, William Taylor Jr., Iris Berry and Michael D. Grover.
@ 9:00 Music by A.S. Coomer