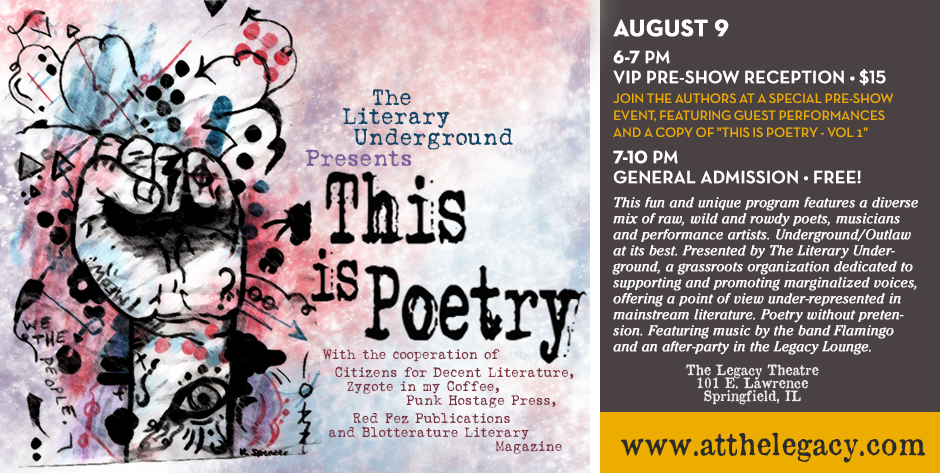 FREE and OPEN to the public. The Literary Underground is pleased to present "This is Poetry" sponsored by Citizens for Decent Literature Press, Punk Hostage Press, Red Fez Publications, Zygote in my Coffee, Nostrovia Poetry, UndergroundBooks, Books & Shovels and Blotterature Literary Magazine. AUGUST 9th 7-10PM. The Legacy Theatre, 101 E. Lawrence Ave., Springfield, IL.
FEATURED PERFORMERS: Ron Whitehead, Ryder Collins, Craig Cady, Bill Gainer, A. Razor, T. A. Noonan, Carleen Tibbetts, Russell Jaffe, Ryan Snellman, Michele McDannold, Jeremiah Walton, and John Swain.
AND music by the band FLAMINGO.
Suitable for ages 18+. Cash bar 21+.
VIP Pre-show 6-7pm $15 (Volume 1 of This is Poetry book series included with admission to VIP Pre-show). To purchase ticket for the pre-show, please visit Brown Paper Tickets at http://www.brownpapertickets.com/event/767890
After-party in the LEGACY LOUNGE to follow performances.
Accessibility to the pre-show reception is limited for the physically challenged. Please call the theatre at 217-528-9760 to discuss your unique needs.
The Legacy serves traditional movie refreshments, beer & wine.
Join the facebook event page here..https://www.facebook.com/events/693710787357846/
More from THE LEGACY THEATRE http://www.atthelegacy.com/
---
THIS IS POETRY VOLUME 1 WOMEN OF THE SMALL PRESS
ORDER NOW $15
**SHIPS AUGUST 11**
Paperback: 120 pages
Publisher: Citizens for Decent Literature Press (July 31, 2014)
Language: English
ISBN-10: 069226695X
ISBN-13: 978-0692266953
CONTINENTAL USA ONLY
INTERNATIONAL ORDERS MUST BE PLACED THROUGH AMAZON. SORRY. POSTAGE SUCKS
CONTRIBUTORS: Stephanie Bryant Anderson, Arlene Ang, C.V. Auchterlonie, Francesca Bell, Iris Berry, Sirenna Blas, Jennifer Blowdryer, Jane Blue, April Michelle Bratten, Bree, Judy L. Brekke, Melanie Browne, MK Chavez, Wanda Marrow Clevenger, Sharon Coleman, Ryder Collins, Cathleen Allyn Conway, Juliet Cook, Cassandra Dallett, Jessica Dawson, Heather Dorn, Lisa Douglass, Alexis Rhone Fancher, Teri Louise Kelly, Ellaraine Lockie, Diane Lockward, Ally Malinenko, Ellyn Maybe, Michele McDannold, Ann Menebroker, Sheila E. Murphy, Alexandra Naughton, s. Nicholas, T.A. Noonan, Puma Perl, Misti Rainwater-Lites, Erin Reardon, Lynne Savitt, Trina Stolec, Susan Yount.
---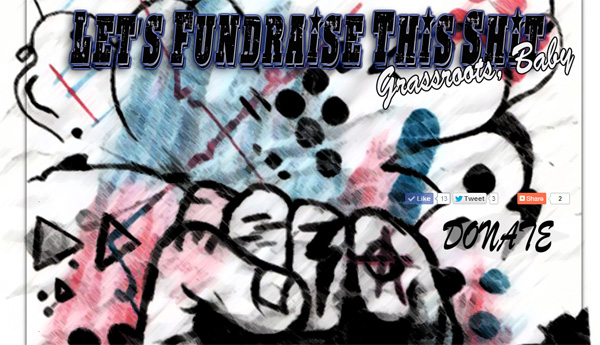 http://theliteraryunderground.org/letsfundraisethisshit/
theliteraryunderground.org/randomactsofterror
---