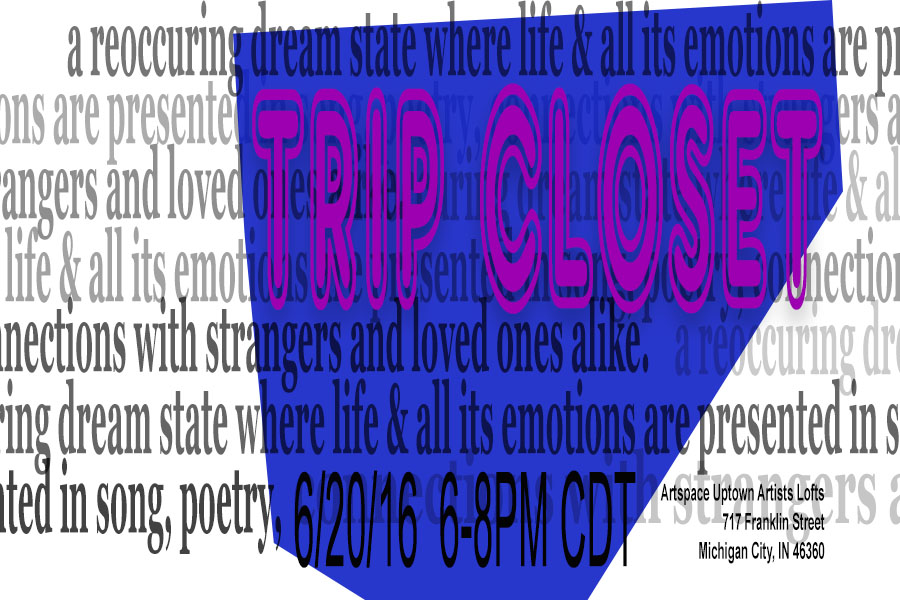 The Literary Underground presents
FULL MOON LOBBY TAKEOVER: TRIP CLOSET
Monday, June 20th 6-8pm CDT
Artspace Uptown Artists Lofts
717 Franklin Street
Michigan City, IN 46360
Doors open at 5:30pm CENTRAL
music, poetry, liquor & food & ephemera
LIVE, PRE-RECORDED OR BEAMING IN STUFFS FROM:
Alex Allen, Iris Berry, Craig Ultraviolence Cady, Curta, Julie Demoff-Larson, David Guthrie, Matthew May, Alexandra Naughton, A. Razor, Lily Rex, Bud Smith, Jeremiah Walton, Michele McDannold and more TBA
OPEN STAGE to follow features–show up, sign up. limited openings–first come, first served. 5 minute slots
Come enjoy some delectable EATS (free til it's gone!)
Cash Bar available (21+)–DARK STAR OF THE DUNES will be serving up $5 Beer & Wine, $6 Cocktails
suggested donation at the door $5
The purpose of the evening is to raise funds to bring diverse voices in creative writing and independent music to Michigan City, specifically to cover travel costs and a small stipend for touring performers.
Stay current on the happenings and updated lineup by visiting our facebook page at http://www.facebook.com/TheLiteraryUnderground
THE MAGICAL JEEP DISTRIBUTING LENDING LIBRARY WILL BE THERE!
have books, will travel
———————
This GOFUNDME (https://www.gofundme.com/28uedqc) is the place to donate online if you are unable to come out but would like to see this sort of thing flourish. We spend every dollar like it's five. Zero dollars go toward administration costs. Every penny will go directly to the exciting and accomplished authors and poets coming to Michigan City to share in this artistic revitalization.