"A gloriously deranged, endless orginal adventure through every day bat country." – Gabriel Ricard, Drunk Monkeys
TOLLBOOTH, a new novel from Bud Smith,
author of Or Something Like That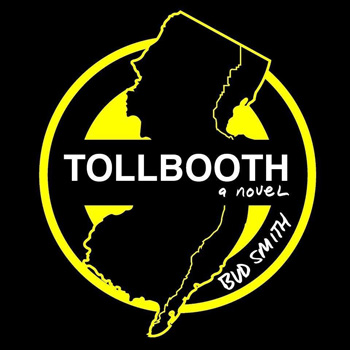 Jimmy Saare collects tolls on the New Jersey Parkway. He's had a mental snap, as a result, is becoming uncontrollably fixated with the 19 year old Gena who works the copy machine at Officetown. Despite his wife Sarah's impending pregnancy, Jimmy pursues his desire for Gena, unexpectedly becoming more entangled with the strange manipulations of an anarchistic teenager, Kid with Clownhead, who wants to start his own destructive cult when he grows up.
AVAILABLE NOW AT AMAZON
http://www.amazon.com/Tollbooth-Bud-Smith/dp/1482642174
Signed copies from the author!
$12.00
click the paypal button on this page http://budsmithwrites.com/books/tollbooth/
also available on KINDLE for only $4.99
Here's what peeps are saying:
"A tantalizing joyride of contemporary American dysfunction …"
– Zygote in My Coffee
"Bud Smith's Tollbooth is like the car accident of a book that everyone slows down for, to watch along their way to wherever–the type of car accident that creates a 30 mile stretch of idling vehicles." Aaron Dietz, author of Super
"At the intersection of the mundane and the surreal you'll find Bud Smith. Poetic, profane and bizarre, Smith's characters and the world he creates simultaneously attracts and repulses; just when you think you've got the characters pegged they do something wonderful like shitting in a box or disgusting like falling in love. Outrageous and frighteningly real, Bud Smith's writing is always beautifully written and wildly entertaining." – Martha Grover, Author of One More for the People.
"There are two types of people: tollbooth operators and people who think there are people who aren't tollbooth operators. Bud Smith's Tollbooth is about you, whether you like it or not. You most likely do not work in a tollbooth but chances are you do know what it's like to work a mind-numbing job. Chances are you also know what it's like to make life-changing mistakes. And I hope to goodness and back that you also know what it's like to take a risk that will possibly change everything for the better. Tollbooth has all of these things, but you probably know that already because you're in it." Aaron Dietz, author of Super
"Tollbooth: better than Madame Bovary, not as good as masturbation." – Martha Grover, Author of One More for the People.
MORE ABOUT BUD SMITH AT http://budsmithwrites.com/