- Due to an increased amount of spam, new users must request an account, confirm their email address and be approved before creating or editing pages.
Side of Grits
From The Literary Underground Wiki
Side of Grits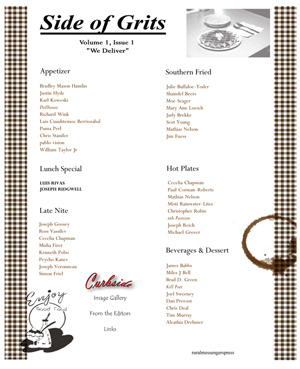 Side of Grits Volume 1, Issue 1 (2008)
Editor Wayne Mason, Michele McDannold
Categories
Zine
Frequency quarterly
Publisher Michele McDannold
First issue 2008
Final issue 2009
Company
Rural Messengers Press
Country United States of America
Language English
Website
Archives
Side of Grits was a underground literary zine consisting of poetry, short stories, reviews, interviews, essays, art and photography published online. Only two issues were produced.
[edit]
History and Background
Side of Grits debuted on November 2, 2008. It was founded by poet Michele McDannold as a project of Rural Messengers Press. McDannold also served as fiction editor for Grits with Wayne Mason as the poetry editor.

Rural Messengers Press nominated for the Pushcart Prize in 2008 including work published in Side of Grits. The pieces nominated were "The View From Mulholland DR" by Luis Rivas, "Of Cannon Fire and Misstepped March" by Chris Stanifer, "Postcard From a Day That Didn't Try Very Hard" by William Taylor Jr., "dead leaves" by Peycho Kanev, and "Daddy's Mold" by Mathias Nelson.[1]

The second and final issue of Side of Grits debuted on February 20, 2009. The archives remain online.[2]
[edit]
Content
The bulk of submissions and content for Side of Grits were poetry and short stories. In the first issue, much attention was paid to the designing of the content pages. The issue was titled "We Deliver" with a menu-style menu.[3] The pages were designed by McDannold using public domain images and submitted art and photography. Many of the images used in the first issue came from the Farm Security Administration and the Office of War Information Collections available from the Library of Congress. Photography by Aleathia Drehmer and Eric Howell and art by Jim Fuess were also used.

The design of the second issue titled "Please Stand By" was intentionally simple and clean. Menu pages included photographs by Peter Schwartz and Zachary Moll but the content pages for this issue did not include any images.
[edit]
Interviews
Interviews for Side of Grits were conducted by Scot Young. For the first issue, Misti Rainwater-Lites and Christopher Robin were interviewed. In Issue #2, AD Winans and MK Chavez were interviewed.
[edit]
Reviews
JA Tyler reviewed online publications and books of fiction for Side of Grits. The online publications nth Position and Kill Poet were reviewed in the first issue, along with the fiction selection, Dollhouse (Thieves Jargon Press) by Mike Boyle. For the second issue, Tom Bradley's novel Lemur (Raw Dog Screaming) was reviewed along with the online publications Arsenic Lobster and No Tell Motel.
[edit]
Essays
Paul Corman-Roberts penned political essays for both issues of Side of Grits. "The Consequences of Symbolism" in Issue #1 and "Confessions of a Reformed, Green, Libertarian Socialist" for Issue #2. Four selections from Joseph Ridgwell's Notes from Underground were published in each issue of Side of Grits.
[edit]
Audio/Video
Audio poetry in the first issue of Side of Grits included selections by Mathias Nelson and Tim Murray. Two short videos by Cecelia Chapman were also published in the first issue. Tim Murray returned in the second issue with three selections of audio poetry.
[edit]
Contributors
[edit]
Grits #1
Bradley Mason Hamlin, Justin Hyde, Karl Koweski, JA Tyler, Richard Wink, Luis Cuauhtemoc Berriozabal, Puma Perl, Chris Stanifer, pablo vision, William Taylor Jr, Julie Buffaloe-Yoder, Shaindel Beers, Moe Seager, Mary Ann Loesch, Judy Brekke, Scot Young, Mathias Nelson, Jim Fuess, Luis Rivas, Joseph Ridgwell, Cecelia Chapman, Paul Corman-Roberts, Scot Young, Joseph Reich, Michael Grover, Joseph Goosey, Ross Vassilev, Cecelia Chapman, Misha Firer, Kenneth Pobo, Peycho Kanev, Joseph Veronneau, Simon Friel, James Babbs, Miles J Bell, Brad D. Green, Joel Sweeney, Dan Provost, Chris Deal, Tim Murray, and Aleathia Drehmer.
[edit]
Grits #2
David McLean, Ed Makowski, Andrew Taylor, Zach King-Smith, Mathias Nelson, Geordie de Boer, FN Wright, Steve Barker, Luis Cuauhtemoc Berriozabal, JD Nelson, Colin McGuire, Hugh Fox, Zachary Kluckman, Zachary Moll, Peter Schwartz, Scot Young, Joseph Ridgwell, JA Tyler, Paul Corman-Roberts, Michael Johnson, William Taylor Jr, James Duncan, Cassidy Petrus, AD Winans, John Sweet, DB Cox, Guy R. Beining, Tim Murray, and Ross Vassilev.
[edit]
External links
[edit]
Notes and references