- Due to an increased amount of spam, new users must request an account, confirm their email address and be approved before creating or editing pages.
David McLean
From The Literary Underground Wiki
David McLean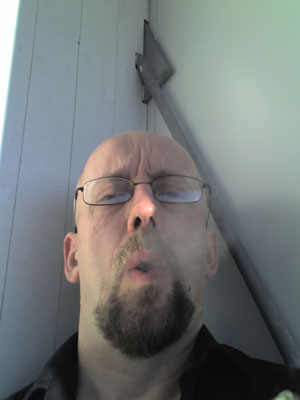 the writer with a cigarette, when he was still allowed to smoke
Birth Name David McLean
Birth Date April 1, 1960
Birthplace Milford Haven, Wales
Language English, Swedish
Nationality Welsh
Citizenship UK
Education Balliol Oxford, History; Stockholm, philosophy
Genre Poetry
Notable Works Cadaver's dance (Whistling Shade) pushing lemmings (Erbacce)
Influences music, film, philosophy, Dylan Thomas, Sylvia Plath, Gerog Trakl, Myra Hindley
Website
http://mourningabortion.blogspot.com
David McLean (b. 1 APR 1960) is a Welsh poet currently living in a house on the island Lambarö in Mälaren, a large lake in Sweden. He has been published widely in the small press. His latest book is Cadaver's Dance (Whistling Shade Press, 2008).
[edit]
Biography
[edit]
Early Life and Education
McLean was born in Milford Haven, Wales in 1960. He has a BA in History from Balliol, Oxford, and an MA in philosophy from Stockholm. He also studied the history of ideas, philosophical aesthetics, feminist philosophy, and gender studies.
[edit]
Personal Life
McLean lived in Brixton in the early 80s after Oxford. He is the father of one child, a daughter born in London 1986. In 1987, McLean moved to Sweden on an island in a large lake called Mälaren, very near to Stockholm where he lives with his fiancée and several pets. He is an atheist and an anarchist.
[edit]
Literary Career
McLean started writing in 1994 though he did not start submitting his work for publication until early 2007. He has published well over 1100 poems in various zines - both print and online and is the author of several books and chapbooks, including three print full lengths, four print chapbooks, and a free electronic chapbook. A new chapbook is due out in spring 2011 from Heavy Hands.
laughing at funerals, Epic Rites Press; March 1, 2010
of dead snakes, Rain Over Bouville; March 23, 2009
poems against enlightenment, Why Vandalism?; March 15, 2008
Pushing Lemmings, Erbacce Press
Cadaver's Dance, Whistling Shade Press; First edition June 20, 2008
a hunger for mourning, Erbacce Press; 2007
la morte vivante, Shadow Archer Press
[edit]
Select Poetry
[edit]
Further Reading
[edit]
Reviews
[edit]
Interviews
[edit]
External Links