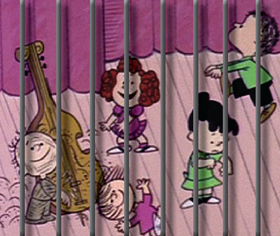 by Geoff Schmidt
On the upper bunk awash in its moonlight, Sherm whispers to his cockroaches. He sits cross-legged; they line his legs. Franklin tosses in his sleep below. He's been in and out lately. Never out for long. Each time back he's a little crazier. He's only been back for a day this time. He's already talking about pipe bombs and poison. Sherm doesn't want to wake him up.
The cockroaches tell him about their night, the food they've found, the eggs they've laid, the lovely cracks they've scuttled through, the really interesting interior wall of Warden Brown's office with its slightly crumbling drywall.
Tell me more about that, whispers Sherm. Does Warden Brown ever hear you?
Oh no, the cockroaches chuckle. We're very sneaky.
What is Warden Brown doing while you explore the inside of his wall?
Well, we can't see him, but he mostly makes phone calls, anyway.
What does he say?
Who's coming, who's going. We knew Franklin was coming back days before he did, they say proudly.
Is anyone leaving soon?
The roaches shift uncomfortably. No, Shermie. You're not leaving.
What about Vi?
No, Shermie. She's not leaving either.
Sherm runs his hands through his bristly hair, looks around the moonlit cell. The walls are old stone, cool and rough, the mortar flaking onto his sheets. The bars of the window are crinkled with rust. Franklin snarls in his sleep.